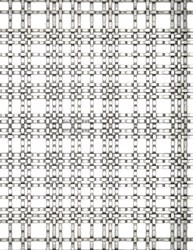 These new patterns are visually unique as well as functional.
Cambridge, Maryland (PRWEB) February 04, 2014
Cambridge Architectural has added five new stainless steel mesh patterns to its product portfolio, which now exceeds 75 choices for architects, interior designers and contractors. They are the first of 11 new patterns the company plans to introduce this year to increase its selection of architectural mesh by 20 percent in 2014.
The new patterns consist of three flexible mesh designs (Alliance3, Diamond and Mid-Shade) and two choices in rigid mesh (Hashtag and Treo). A new brochure on the company's website home page details Cambridge Architectural's growing selection of mesh patterns and attachment systems and includes case studies of highly visible projects.
"Through our vast experience in working with clients from design to installation, we know architects are constantly seeking new applications that push boundaries and stretch the imagination," said Ann Smith, Architectural Business Development Manager at Cambridge. "These new patterns are visually unique as well as functional."
Flexible mesh patterns are ideal for large building facades because they can be made into panels that cover a larger surface area. They add visual interest and often, solar shading capabilities. Flexible mesh is also easier and less expensive to install than alternative products. The new patterns can be mounted in-tension using various patented Cambridge Architectural attachment systems. Recent projects incorporating Cambridge Architectural's flexible mesh include the Cotton Bowl renovation, Taylor Family Digital Library at the University of Calgary and the Awty International School Parking Facility in Houston.
Alliance3, with its 65 percent open area, is a patent-pending design best suited for façade, daylighting and solar shading applications. It is horizontal in configuration and is unlike any pattern in the marketplace. Diamond is named for the distinct geometric design of its mesh openings and differs from typical triangular spiral patterns. It maintains a 65 percent open area and a maximum width of 240". Mid-Shade, ideal for solar shading, is an intermediate option to Cambridge's popular Shade and Mid-Balance mesh patterns in terms of open area, weight and cost per square foot.
Cambridge Architectural's rigid mesh patterns are typically frame mounted for interior and exterior applications such as railings and partitions. Newer high profile projects include the Texas A&M University Memorial Student Center and the Iron Horse Trail Pedestrian Bridge in Pleasant Hill, California.
New rigid mesh pattern Treo has an interesting vertical flat-bar design that creates a grid-like pattern over larger areas. It is available in T304 or T316 stainless steel and can be panelized or mounted on building façade exteriors using Cambridge's Rigid Mesh-in-Tension attachment system in dimensions up to 120" wide. Hashtag, available in surface coverage area up to 96" wide, features an offset cross-hatch design with flattened rod details for stunning light reflectivity.
Architectural mesh has become a popular building material due to its unique combination of aesthetic and functional qualities. Interior and exterior applications include building and parking facades, railing infills, wall cladding, partition curtains and elevator cab panels and can be used for solar shading, fall protection and visual screening functions.
All Cambridge metal fabric patterns are produced from 100 percent recyclable materials and are a great option for LEED construction. They have a virtually maintenance-free and indestructible lifecycle, making them a decorative and sustainable choice for interior and exterior building design applications.
For more information call 1-866-806-2385.
About Cambridge Architectural
Cambridge Architectural, a division of Cambridge International, is the most experienced full-service provider of sustainable architectural mesh systems for both interior and exterior building applications. As the world leader in tensioned mesh systems, Cambridge Architectural metal fabric solutions lend unique aesthetic appeal, functionality, affordability and sustainable benefits to a variety of structures interior and exterior. Cambridge Architectural offers full system design, engineering and collaboration from concept through installation – in the most challenging building environments and under the strictest budgets. Cambridge Architectural metal fabric systems are categorized by the primary applications they serve, including parking structures, exterior shades, facades, canopies, curtains and others. As a member of the United States Green Building Council, Cambridge Architectural is committed to promoting methods, technology and products resulting in environmentally responsible and healthy buildings. The Cambridge Architectural team develops systems that meet or exceed LEED requirements and provides consultation and direction on a project-by-project basis. Visit http://www.CambridgeArchitectural.com for more information.