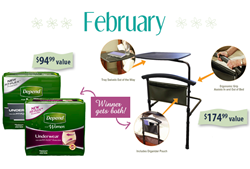 These products are part of the solution to two big problems faced by our senior population today.
Neenah, Wis. (PRWEB) February 05, 2014
The CareGiver Partnership, a national retailer of incontinence products and other home health care supplies, announces its February "Helping You Get On With Life" sweepstakes includes two prizes: one designed to help a senior stay safe and independent at home, and one to provide men or women with incontinence a new choice in comfortable, discreet protection.
"These products are part of the solution to two big problems faced by our senior population today," says Lynn Wilson, Founder of The CareGiver Partnership. "Up to 40 percent of nursing home admissions are due to falls or fear of falling. And with millions of Americans affected by incontinence and new buyers spending an average of $130 or more just to find the right product, customers appreciate trial opportunities, which is also why we created our sample service."
Here are the prizes one lucky entrant will win, according to Wilson:

Independence Bed Table by Stander: 3-in-1 mobility tool is the ultimate bedside companion. Secure hand rail features an ergonomic grip for help getting in and out of bed. Bedside tray keeps item within easy reach and swivels out of the way when not in use. Organizer pouch holds reading materials, remote controls and other essentials. Easy-to-use design slides between mattresses for stability. This prize is valued at $174.99.
Depend pull-on underwear with new FIT-FLEX™ protection: Easy-on/off, disposable underwear are soft, quiet and breathable like regular underwear, with more Lycra strands for a smooth, comfortable fit. FIT-FLEX™ is ideal for active people who need moderate to maximum incontinence protection but like a flexible fit that moves with them, especially in the leg area. Depend for Women is designed to fit a woman's shape, with oval-cut leg openings and absorbent protection where it's most needed. Depend for Men features snug, brief-like leg openings and protection up front where needed. One case contains 76 pairs and is valued at $94.99.
The CareGiver Partnership created the "Get Back Into Life" monthly sweepstakes to raise awareness of products and services that help seniors live independently and make caregivers' jobs easier. For a chance to win this month's prize package, participants need only e-mail info(at)caregiverpartnership(dot)com or mail a short statement explaining why the prize would be useful to him or her or a loved one. The CareGiver Partnership will accept entries for this prize through Feb. 28, 2014, and will notify the drawing winner the first week of March. To learn more about the two easy ways to enter and preview upcoming giveaways, visit The CareGiver Partnership's "Helping You Get On With Life" sweepstakes page.
"Customers interested in trying incontinence products before buying should take advantage of our sample service," Wilson says. "Sample packs of underwear or briefs contain two pieces; pads or male guards contain four. There are more than 100 products to choose from, and the customer pays only a $3.49 handling fee."
Visit The CareGiver Partnership to try sample products before buying, use the online Incontinence Product Finder tool, download a free fall prevention guide, and access more than 1,500 caregiver resource links and hundreds of free articles.
The CareGiver Partnership is a national direct-to-consumer retailer of home healthcare products for incontinence, diabetes, nutrition support and more. In its seventh year of providing products and services that help caregivers and loved ones maintain personal dignity, the company also offers an online library of more than 1,500 family caregiver resources and personal service by experts in caregiving. Call 1-800-985-1353 or visit online at http://www.caregiverpartnership.com.