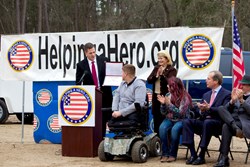 Since 2011, Spark Energy has partnered with Helping a Hero to provide free electricity to nine wounded veterans and their families.
Houston, Texas (PRWEB) February 05, 2014
Spark Energy, the Houston-based retail energy provider, donated a year of free electricity to a wounded veteran served by the Helping a Hero organization. The presentation occurred at a groundbreaking ceremony on the Montgomery site selected by Sergeant Ben Eberle and his family for their specially adapted home.
Sergeant Eberle was severely injured by an improvised explosive device in Afghanistan in 2011, leaving him a triple amputee. As part of the Helping a Hero program, his new home will be specifically built for the unique challenges of his injuries.
The donation of a year of free electricity is part of Spark Energy's commitment to serving veterans through its ongoing relationship with Helping a Hero.
"As our troops return home after making incredible sacrifices on our behalf, it's important that they have the resources necessary to transition back into civilian life," said Nathan Kroeker, President of Spark Energy. "We are dedicated to supporting these men and women -- and we are honored to partner with Helping a Hero in their mission to empower returning veterans and their families."
Since 2011, Spark Energy has partnered with Helping a Hero to provide free electricity to nine wounded veterans and their families. Spark Energy also offers a way for its customers to make a difference via its Power for Heroes electricity program. Houston-area customers on the Power for Heroes electricity plan have a portion of their bill donated to Helping a Hero at no cost to them.
About Spark Energy:
Spark Energy, L.P. is a Houston-based, independent, multi-state certified retail electricity and natural gas provider With more than a decade of experience, the company works to consistently deliver competitive energy rates, quality products and superior customer service to hundreds of thousands of satisfied customers across 17 states. Spark Energy is dedicated to positively impacting the communities it serves by building relationships, inspiring philanthropy and promoting good will both inside the company and throughout the community. For more information, visit http://www.sparkenergy.com.
About Helping a Hero:
Helping a Hero is a 501(c)(3) non-profit, non-partisan organization that enables all Americans to say "thank you for your service" to our nation's wounded heroes in a tangible way. Helping a Hero builds specifically adapted homes for severely injured military personnel and their families and adapts these homes for the specific injuries and challenges of our wounded heroes.