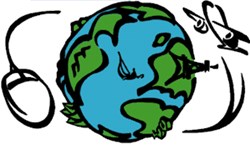 DestinationCoupons.com is like having a friend in every major city willing to recommend a show, a city tour, or get a local's deal at attractions.
Las Vegas, Nevada (PRWEB) February 05, 2014
There have never been more ways to save money while traveling on business or pleasure. In fact, the landscape is so cluttered, it's difficult to navigate. But are these new tools and new ways to save really the best way to get travel discounts and savings?
2014 is the year for the on-the-go traveler, according to DestinationCoupons.com, a free travel savings website offering savings coupons and promotion codes for travel and hospitality. Based on new data and recent studies, it appears travelers are relying on their smartphones more than ever to get to where they are going.
"Travelers are looking to get to their destination as quick and simple as possible without having to create an account, sign up for a long term member ship, or pay for service," says Suat Gulec, founder of DestinationCoupons.com. "Tourists are standing in front of attractions, shows and activities, and they're searching for coupons on their mobile device to then present at a box office for a discount."
This new form of non-committal, on-the-go travel is becoming increasingly popular as mobile web use has doubled over the years. 21% of phone owners use their devices as their primary way of accessing the internet, according to CNN, and that percentage is growing every year. And based on DestinationCoupon's data, over 30% of their web traffic is accessed from a mobile device, which is an all-time high and growing consistently.
DestinationCoupons.com is setting themselves apart by what is missing from the website – no shopping cart. The offers are completely complimentary and no credit card is needed. And while membership is available to receive the company's monthly hot deals, it's not required to print a coupon or to obtain a promo code.
Save eighty bucks on a Vegas show? Print the coupon. Meetings end early in New York City? Take a Circle Line Statue of Liberty Harbor Tour and save 50%. Looking for a great deal on a Las Vegas hotel? A tour of Grand Canyon? A coupon for the Miami Zoo, Ripley's Believe It or Not Museums or the world-famous TMZ Hollywood Tour? Skip the lines for the Vatican Walking Tour? Vacation planners simply peruse the offers and print a coupon for savings of generally more than 15% and sometimes as high as 60%, or in some cases, access a deal which is not available anywhere else online.
The twenty year-old online travel company offers more than 70,000 exclusive offers for attractions, dining, shopping, shows, museums, attractions and sightseeing services, in addition to the best possible hotel and car rental rates in 7,000 worldwide destinations.
This amount of volume provides exclusive arrangements for even greater savings, promoted by a monthly newsletter to more than 100,000 budget-minded and travel savvy users of the site. The site connects travelers directly with show box offices, major international hotel chains such as Intercontinental, Marriott and Hilton, and car rental companies like Budget, Avis, Sixt, Enterprise, making it convenient to book travel arrangements, while also checking out deals in that city.
Along with the monthly hot deals, offers are posted daily and many are exclusive to DestinationCoupons.com. The website is a valuable tool when planning to visit a major city and seeing a few of the major highlights. While some pass programs bundle the best of a city for a significant discount for a week's vacation, for shorter stays, live theatre, hotel rooms and car rental along with sightseeing, DestinationCoupons.com delivers individual deals. And unlike social media sites requiring a cash commitment in advance or to get to a certain number of participants, DestinationCoupons.com accepts no payments. In fact, the company points out that other sites actually cost travelers money when they leave their paid voucher for a sightseeing tour at home, forget to show up on the only day the voucher is valid, or run out of time with unused attractions on the electronic card. Coupons printed on DestinationCoupons.com are handed directly to the ticket or box office for savings, with no service fees added at the transaction point.
For a traveler headed to a specific destination with a set itinerary or a planner looking for inspiration, DestinationCoupons.com is like having a friend in every major city willing to recommend a show, a city tour, or get a local's deal at attractions.
About DestinationCoupons.com
http://www.destinationcoupons.com is the free website offering worldwide discounts for hotels, car rentals, restaurants, shopping, activities, theater, attractions, sightseeing and more through an ala carte, one-click coupon access. DestinationCoupons.com handles no transactions and offers a monthly Hot Deals newsletter. Follow the company on Facebook at https://www.facebook.com/DestinationCoupons, and on Twitter at http://twitter.com/destcoupons @destcoupons.