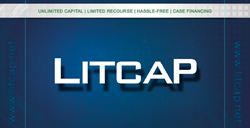 LitCap's mission is to change the way lawyers finance their case related expenses
Houston, TX (PRWEB) February 06, 2014
LitCap, an online marketplace that connects attorneys with qualified investors/lenders for case cost financing, has launched Version 3.2 of its platform.
While a relatively new company (launched on September 1, 2013), LitCap has facilitated over $40 million in case cost financing for attorneys. Loans funded through the LitCap marketplace are used for case related expenses only (not legal fees or other expenses) and cover virtually all aspects of civil litigation, including business litigation, employment disputes, wrongful death claims, and even large case related expenses such as intellectual property or class action litigation.
The LitCap platform and membership provides attorneys a secure marketplace as well as an easy and efficient way to obtain low-cost case expense financing on behalf of clients, as needed. With the ever increasing costs of litigation expenses, across a broad spectrum of various types of litigation, LitCap provides an ethical alternative for attorneys whose clients may not always be able to afford to cover all of the costs associated with litigation.
How LitCap works:
First, an attorney who meets the stringent qualifications to become a member (attorneys on LitCap are considered preeminent or at the top of their various litigation practice areas) fills out an application and is accepted as a LitCap member.
Second, after obtaining membership the attorney logs in to the online platform and lists a case on the LitCap marketplace by filling out a short case questionnaire comprised of non-privileged (factual) information about the case. The attorney then determines the amount of case cost financing needed and the interest rate sought, and publishes the case on the marketplace.
Third, after the case is listed on the marketplace and reviewed by investors, an investor will make an offer to the attorney to loan on the case related expenses. The attorney and investor negotiate the interest rate for the loan, and after they reach an agreement, the funds are wire transferred to the attorney's IOLTA Trust account.
LitCap oversees the entire process and tracks the cases on the platform from start to finish for both the investors and attorneys. If the attorney obtains a successful outcome for his client, the attorney repays the loan at the same time funds are dispersed to the attorney's client. No monthly or periodic payments are required for the life of the note. If an attorney loses a case listed on the LitCap platform, the debt may be forgiven.
"Financing terms found on LitCap are often better than anything you could get from a bank or commercial loan and come with many added benefits," commented Hugh Jones Plummer, Jr., Managing Director of LitCap. "All civil litigation has some level of case related costs or expenses and often these costs can become quite large. LitCap makes it possible to fund all of your cases, no matter how large or how small, with the click of a button." When asked about the new improvements he stated, "We are constantly trying to improve our product for our Attorney Members and for our Investor Members, and we believe version 3.2 will make all of our members very happy."
In version 3.2, a streamlined application process has been added and improved user interface. In addition, LitCap launched their Multi-Plaintiff Product, which allows law firms to list large mass tort, or class action type cases for financing.
Membership is free to qualified lawyers.
"LitCap's mission is to change the way lawyers finance their case related expenses and to help them economically and efficiently grow their practice," commented Britton J. Holland, President of LitCap. "LitCap is a better alternative to banks or even using personal capital for case expenses. There is essentially no limit to the amount you can borrow because, unlike a traditional line of credit, the amount you can borrow is only limited by what will fund on the marketplace. It is a zero risk, ethical, sound alternative to banks or using personal money to finance your client's case expenses."
About LitCap:
LitCap is a marketplace where preeminent attorneys obtain financing for case related expenses from qualified investors.
At LitCap we believe that your case cost financing should function exactly the same way your contingent fee agreement works with your client. If you are successful you repay the debt, if you are not successful the debt may be forgiven. When your business is contingent based your financing should be also. With LitCap, no periodic or monthly repayments are required. Lawyers repay the loan at the end of their client's case if the case is resolved successfully.
Take control of your case cost financing today and contact Aubree Feldmann at LitCap.
Media Contact:
Aubree Feldmann
Tel: (713) 946-6464
Fax: (713) 520-0160