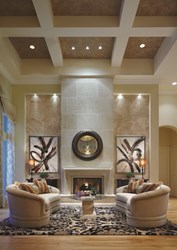 Palm Beach, FL (PRWEB) February 05, 2014
Award winning interior design team, Residential Interiors Group, latest project: a 3,200 sq. ft. luxury residence in Palm Beach's The Enclave, was featured in the luxury publication, Private Air Luxury Homes Magazine.
The residence designed by John and Marilyn McGaw, was created for their affluent New York clients looking for the perfect Palm Beach hide-a-way. As co-founders of the upscale Residential Interiors Group, John and Marilyn McGaw upped the creative ante in this residence and expanded their reach by not just designing distinctive, one-of-a kind projects, but by fabricating many of the furnishings and elements used in the rooms themselves.
The results are an inimitable, utterly unique space the design-driven power couple is known for. Their work not only reflects the style and personality of the clients, but the impeccable aesthetic sensibilities of the designers themselves. Going far beyond the custom window treatments offered by more mainstream design firms, Residential Interiors Group creates bespoke furniture, moldings – all the custom elements that together give new meaning to the word 'personalized' as it pertains to interior design.
"We love to create unique homes we would like to visit or live in. We want our clients to stand out in their environment". While the McGaws like to see clients stand out in their environments, the rooms shine quite brightly on their own. As brightly, in fact, as the firm that creates them.
About John and Marilyn McGaw:
John and Marilyn originally established Residential Interiors Group in the Pacific Northwest in 1992. As the company grew, the McGaws set their sights on the sunny skies, centralized location, and well-heeled clientele offered by Florida's affluent Gold Coast and in 2004, and moved operations from Seattle, Washington to Palm Beach where they are now based. It is here that they work their magic, creating show stopping interiors for both residential and hospitality industry clients. In addition to having left their fashionable mark on some of the most stunning private homes from the Pacific Northwest to Florida's sunny shores, the couple's signature style can be found within hotel rooms, ocean liner suites, and other deluxe accommodations on land and at sea.
http://www.mcgawcompany.com
About Private Air Luxury Homes:
Private Air Luxury Homes Magazine caters to the wants of ultra-high net worth individuals with a unique perspective and a genuine grasp of what interests its reader: the world's most exclusive real estate, investments opportunities, fine art and collectibles. Each issue is edited and designed to be kept and found, not only onboard private jets, but also in the homes of some of the world's wealthiest and most discerning individuals.
http://www.private-air-mag.com