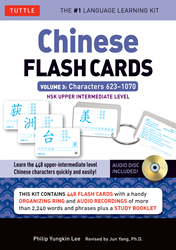 "After a full semester of trying to memorize Chinese characters, making my own flashcards, using online versions, and falling farther and farther behind... I bought these cards. I'm finally feeling successful and catching up!" - Amazon Customer
(PRWEB) March 04, 2014
The fad of using online flash cards has proven short-lived, as Tuttle Publishing continues to see strong demand for its Chinese Flash Cards series. No other study tool is better equipped to handle this task other than flash cards, making this kit an ideal resource for practicing Chinese.
The handy flash cards present the characters in the correct order and the cards have a full range of features to help you master the 448 Upper Intermediate level characters, along with their associated 2,240+ words and sentences. All characters needed for the HSK Upper Intermediate Level exam are covered. The HSK is China's standard test of Chinese proficiency for non-native speakers, required of foreigners who wish to study or work at Chinese universities and firms.
About Tuttle Publishing
Established in 1948 by Charles Egbert Tuttle Jr. in Rutland, Vermont and Tokyo, Japan, Tuttle Publishing is the premier publisher of English language books on Asian culture. Today, Tuttle maintains an active offering of books on a wide range of topics, including Asian culture, Asian literature, Asian architecture, Eastern spirituality, gardening, cooking, martial arts, crafts, travel, health and wellness, and fine art for a worldwide audience.