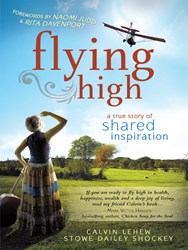 I simply hope my story give others hope to not only survive, but ultimately excel in life.
Thomson Station, TN (PRWEB) February 06, 2014
According to the American Cancer Society, nearly one in every four deaths, which is estimated to be around 1,600 people per day, can be attributed to cancer. This frightening number is all the more reason to enjoy a survival story, especially when it's a story of two people inspiring one another to not only survive, but also improve their overall post-cancer life.
Author and songwriter Stowe Dailey Shockey began writing "Flying High" as a biography of Calvin Lehew, who is an entrepreneur extraordinaire, cancer survivor and fascinating rags-to-riches story. In time, Shockey's own cancer would progress forcing her to confront her fears of traditional medicine and life in general.
Fortunately for Shockey, Lehew survived his battle with cancer as well and inspired her to take action, veritably saving her life.
As these two authors wrote "Flying High," their shared struggles and successes inspired them to become better versions of themselves. By coming so close to the end of her life, Shockey realized the importance of living her life fully.
Shockey has gone on to achieve many of her dreams in life since overcoming cancer. She hopes that readers of "Flying High" will be inspired to do the same.
"Flying High: A True Story of Shared Inspiration"
By: Stowe Dailey Shockey and Calvin Lehew
SC-ISBN: 978-4525-3453-4
SC-Retail price: $21.99
Available at barnesandnoble.com, amazon.com, flyinghighbook.com, atlasbooks.com and wherever books are sold.
About the author
Stowe Dailey Shockey is a singer-songwriter, 5-time author and recent cancer survivor. She co-wrote the song "Long Time Comin'" for the group Shenandoah. Her Album, "Angel Chants," was the soundtrack of "Angel Stories," featured on T.L.C. As one half of the award-winning duo –StoweGood-Stowe and her duet partner, Karen Taylor Good, tour internationally presenting musical keynotes, concerts, workshops and retreats.
###
**FOR IMMEDIATE RELEASE**
EDITORS: For review copies or interview requests, contact:
Spencer Hotz | 317.602.7137| shotz(at)bohlsengroup(dot)com
(When requesting a review copy, please provide street address.)