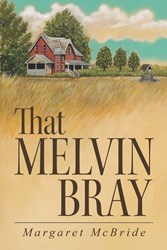 When the heart truly forgives then there is nothing to forget.
Atlanta, GA (PRWEB) February 06, 2014
When there is anger in the heart, will anger or love prevail? Childhood disappointments, like invisible phantoms, often lead to a lifetime of personal denial overshadowed by grief and regret - we often lie the loudest when we lie to ourselves.
Author Margaret McBride has written her new novel, "That Melvin Bray," to inspire people to forgive, to heal, and to embrace a life filled with spiritual meaning and personal abundance. McBride creates the backbone of the story for love and healing from a mixture of personal insights and the experiences of those she loves. Add in a heap of psychological ingenuity and a dash of lighthearted adventure and you've got a full-blown spiritual thriller.
"That Melvin Bray" follows two young women who must confront and reconcile the burdens of their personal regrets in life while trying to solve the mystery of a missing child. Along the way, a higher power guides them toward the personal healing they seek.
"Much like my own characters, I struggled to find the path to personal healing," McBride said. "With some guidance from above, I found mine and hope my novel helps others do the same."
Aiming to stir the soul, this novel demonstrates that the written word is far from silent. This journey of healing not only provides inspiration to accept life's disappointments, but also to recognize the compelling power of forgiveness, hope and healing.
"After all, my sincerest belief is when the heart truly forgives then there is nothing to forget," McBride said.
"That Melvin Bray"
By: Margaret McBride
SC-ISBN: 978-1-4582-1212-2
SC-Retail price: $18.99
Available at barnesandnoble.com and amazon.com.
About the Author
Margaret McBride was born and raised in North Carolina. She and her husband currently live in Atlanta where her writing began as an act of personal reflection that ultimately led to the creative process of writing a novel. She feels she was divinely inspired to share this message of the importance of forgiveness and psychological healing to realize one's spiritual purpose in this life. McBride knows the greatest gift God can give is life itself, but the second greatest is the ability to forgive.
**FOR IMMEDIATE RELEASE**
EDITORS: For review copies or interview requests, contact:
Spencer Hotz | 317.602.7137| shotz(at)bohlsengroup(dot)com
(When requesting a review copy, please provide street address.)