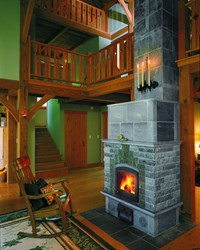 (PRWEB) February 06, 2014
The Masonry Heater Association of North America is releasing its educational class schedule for 2014. The class titled "Basics and Theory of Masonry Heaters" is a 32 hour curriculum driven course that offers 12 hours of classroom and 20 hours of construction of a masonry heater.
This class is intended for the mason who is both experienced and non-experienced. It provides the basic knowledge needed to understand the construction and functionality of a masonry heater. It is also used by homeowners who wish to understand how their wood-fired heater works and how to use it to its full potential.
Class Schedule:
April 14 - 20th, Little Switzerland, NC (annual meeting)
June 19 - 22nd, Everett, WA
Aug. 07 - 10th, Cummington, MA
Aug. 14 - 17th, Duluth, MN
Sep. 11 - 14th, Perth, Ontario
Cost: $900 (non-member)
$800 (member)
The Masonry Heater Association is a non-profit organization dedicated to the serving the interests of the masonry heating industry. Founded in 1987, MHA is an association of builders, manufacturers, and retailers of masonry heaters.
More information about the educational classes and MHA membership is available by contacting the MHA office:
Phone: 520-883-0191