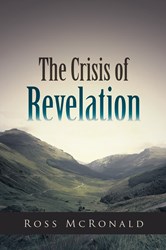 Books such as 'The Da Vinci Code' scratch the surface in regards to alternative religious beliefs. I wanted to write something that takes these ideas to the next level so that we can further explore the roots of Christianity.
Miami (PRWEB) February 06, 2014
Billions of people hold the belief that Jesus Christ died on the cross for the sins of the world. What if Jesus didn't actually perish on the cross?
Author, Ross McRonald makes this claim in his new book, "The Crisis of Revelation."
Inspired by previous works, such as" Holy Blood", "Holy Grail", "The Tomb of God" and "The Da Vinci Code", McRonald's novel suggests that Jesus' final resting place is in the south of France.
The novel follows a retired engineer, Jack Molay, who goes on an archeology expedition to Europe. While there, his team discovers what they believe to be the bones of Jesus Christ and Mary Magdalene. The bones show signs that a crucifixion has occurred. However, these bones have healed. The evidence of healing directly refutes the claim that Jesus rose from the dead.
"Books such as 'The Da Vinci Code' scratch the surface in regards to alternative religious beliefs," McRonald said. "I wanted to write something that takes these ideas to the next level so that we can further explore the roots of Christianity."
"The Crisis of Revelation"
By Ross McRonald
Price: $17.95
ISBN: 978-1-4917-1261-0
Available at: Amazon, iUniverse and Barnes and Noble online bookstores
About the Author
Ross McRonald is a practicing physician in Boynton Beach, Florida. Several of his articles have been published in medical trade magazines and peer reviewed medical journals. He and his wife, Carole, have been married for more than 50 years. He is also the author of "Exit Strategy."
###