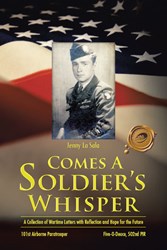 "Comes a Soldier's Whisper," offers a brilliant glimpse into the human element of war.
Walworth, NY (PRWEB) February 06, 2014
According to CNN, 16 million men valiantly served in World War II; only about 1 million of those veterans are alive today.
As members of the historical 'greatest generation' begin to perish, preserving their memory and knowledge becomes paramount.
Jenny La Sala is the daughter of a Purple Heart and Bronze Star recipient. She's compiled a book comprised of her father's nearly 300 wartime letters from 1943-1945 written for his then sweetheart and future wife.
"The letters serve as heartfelt reminder of the sacrifices that were made to preserve our freedom," La Sala said. "When organized chronologically, they tell my father's wartime story. The story of a man who appeared tough as nails to the world, but showed both vulnerability and compassion when writing about matters such as life, death, marriage and children."
"Comes a Soldier's Whisper," offers a brilliant glimpse into the human element of war. La Sala believes that the collection of wartime letters expresses heartfelt sentiments that resonate with military families of past and present.
"Comes a Soldier's Whisper"
By Jenny La Sala
Price: $25.00
ISBN: 978-1-4669-7686-3
Available at: Amazon, Trafford and Barnes and Noble online bookstores
Available Formats: eBook, Soft-Cover, Hard-Cover, Audio coming soon
About the Author
Jenny La Sala is a native of Portage, Indiana who has a passion for written and verbal communication. Her father, brother and ex-husband all courageously served in the armed forces. She's an advocate for those who have suffered from both PTSD and secondary PTSD and is planning to release another book comprised of wartime stories from veterans around the country who have severed in WWII, Korea, Vietnam, Iraq and Afghanistan.
###