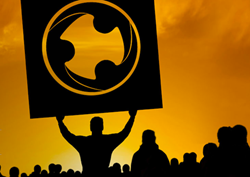 San Francisco, CA (PRWEB) February 05, 2014
Givelocity, a community for shared giving, and Charity Navigator, the nation's largest and most-utilized evaluator of charities, have announced a partnership that gives donors an added level of confidence in their charitable giving. Givelocity, a proprietary crowdsourcing platform, allows donors to pool their dollars with others who care about the same types of causes and then vote on which charities receive their collective support.
"There are over a million charities, and people often don't have the time or know-how to evaluate those they're interested in; that's where Charity Navigator comes in," said Susan Cooney, founder and CEO of San Francisco-based Givelocity. "In addition to the company's expertise in evaluating charities, we also chose Charity Navigator for their extensive educational efforts around creating meaningful content to help donors learn more about smart giving, an effort close to us at Givelocity."
Givelocity is helping to bring innovation to philanthropy through its unique approach to donation-based crowdfunding. Givelocity members pledge to donate as little as $1 a month and join communities, or "neighborhoods," built around shared causes like the environment, literacy or animals. Neighborhood members then vote on which charities will receive their collective contributions each month.
"Givelocity is making it easy and enjoyable for people to make small donations that can go a long way," said Ken Berger, CEO of Charity Navigator. "Susan understands the importance of transparency to donors, and we are pleased to be the preferred charity evaluator for Givelocity, to help provide that information."
Through this new partnership, Givelocity members can now choose from charities with "high credibility" ratings, reducing the worry over where their contributions will be distributed. Charity Navigator's rating system examines two main areas – Financial Health and Accountability & Transparency. The group's professional analysts have examined tens of thousands of non-profit financial documents to develop an unbiased rating system that shows givers how efficiently a charity will use their support today, how well it has sustained its programs and services over time and their level of commitment to good governance, best practices and openness with information.
The Charity Navigator site is a two-time Forbes award winner for "Best of the Web," was selected by Reader's Digest as one of the "100 Best Things about America" and was chosen by PC World as "One of America's Top Websites."
Together, Givelocity and Charity Navigator offer individual and corporate donors alike increased confidence in where their contributions are sent, while simultaneously building stronger communities around giving. All donors can now enjoy a platform where giving decisions are made more purposefully, inclusively and frequently.
About Givelocity
Givelocity is a community for shared giving. Members pool pledges and vote on where collective donations are sent every month. Givelocity is a unique online platform designed to harness the power of crowdsourcing, allowing individuals and businesses to create theme-based communities, or neighborhoods, for shared impact. The site offers enterprise tools to engage employees and build a culture of giving back. The platform fosters a sense of community, reinforcing social and economic equality, with the advantage of offering anonymity and better mapping of credible, accountable charities. With more scalable and sustainable donating, Givelocity is changing the way people give back.
About Charity Navigator
Charity Navigator is the most-utilized charity evaluator in America. The organization helps guide intelligent giving by evaluating the Financial Health, Accountability and Transparency of more than 7,000 charities and by disclosing basic information on the remainder of the 1.4 U.S. nonprofits, while providing donors with the tools to conduct their own evaluation of a charity. Charity Navigator accepts no advertising or donations from the organizations it evaluates, ensuring unbiased evaluations, nor does it charge the public for this trusted data. As a result, Charity Navigator, a non-profit 501 (c) (3) charity itself, depends on support from individuals, corporations and foundations that believe it provides a much-needed service to America's charitable givers. Charity Navigator can be reached directly by telephone at (201) 818-1288 or by mail at 139 Harristown Road, Suite 101, Glen Rock, NJ, 07452.
Contacts:
Givelocity
Stephanie Myers
Stephanie(at)Leverage-PR(dot)com
512.502.5832
Charity Navigator
Sandra Miniutti
Media(at)charitynavigator(dot)org
201.818.1288 x105