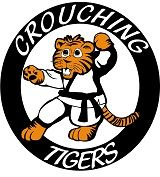 To watch children master a new skill, break their first board, or add a new life skill to their vocabulary, makes each day worth it. - Crouching Tigers founder, Olivia Roney Spahn
Cincinnati, Ohio (PRWEB) February 06, 2014
Crouching Tigers is excited to announce the expansion of the area they are serving to now include Cincinnati. Crouching Tigers is a mobile martial arts program that focuses on building a strong foundation and provide an introduction into the world of martial arts to children ages 2-7. Rather than operate out of a brick and mortar location, Crouching Tigers partners with local daycares and preschools.
The focus is on introducing children to martial arts and basic self-defenses in a fun and encouraging environment. It's a way to show kids how to "be active and have fun all while being active and healthy," she said. It also provides convenience to parents who then don't have to drive their children to their lessons.
Crouching Tigers was founded by Olivia Roney Spahn while attending IUPUI in Indianapolis, Indiana. Olivia began by offering free classes at a local preschool and after 6 years is now proud to say that Crouching Tigers is offered in over 70 locations and has 900+ students.
"It's amazing to introduce kids to (karate)," she said. She added that it's also fun to see kids' confidence grow as they improve their skill level. The moment her students break through their first board, the immediate confidence boost they visibly feel is indescribable.
Weekly classes are offered at each center and enrollment is accepted at any time. The curriculum is built so that students are constantly reviewing skills taught in previous classes.