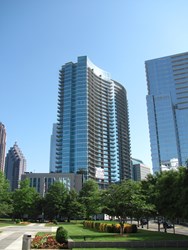 1010 Midtown is very pleased to have selected FirstService Residential as its property manager, said the condo Board President. They offer us unequalled professional capability and commitment.
Atlanta, GA (PRWEB) February 05, 2014
FirstService Residential, the leading high-rise property management company in the Atlanta metropolitan area, has been chosen to provide full service management services for 1010 Midtown, a 35-story, 425-unit residential/mixed-use high-rise condominium community located on the corner of 12th and Peachtree Road. The building is renowned for its signature curved structure, upscale amenities such as a rooftop pool and garden, state of the art fitness center and club room, 24-hour concierge and security, and overall walkability to the area's arts, culture, nightlife and Atlanta's well-known Piedmont Park. The new management partnership began January 1, 2014.
Completed in early 2009, 1010 Midtown is a joint venture development by Daniel Corporation, Selig Enterprises, the Canyon-Johnson Urban Fund (CJUF) and MetLife. The building was designed by the architecture firm of Rule Joy Trammell + Rubio and was built by Brasfield & Gorrie.
"We are truly honored to be partnered with 1010 Midtown," said Matt Phillips, President of FirstService Residential, Georgia. "It is a remarkable high-rise condominium community and a Midtown landmark with everything you could want when it comes to intown living, from its location, the design and quality construction of the building, amenities, and a truly diverse mix of residents. As the industry leader in residential property management, we look forward to providing proven management solutions and best-in-class services that will further enhance the lifestyle of the residents of 1010 Midtown."
About FirstService Residential
FirstService Residential is a subsidiary of FirstService Corporation, a global leader in the rapidly growing real estate services sector, one of the largest markets in the world. As a leading property management company in North America, FirstService Residential oversees more than 6,500 residential and commercial associations including 1.5 million residential units and over 50 million square feet of commercial space across 21 U.S. states and three provinces in Canada. The company has more than 12,000 employees driving local market expertise and manages in excess of $6 billion in annual budgets. For more information, visit http://www.fsresidential.com.