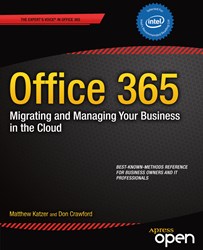 "This book outlines a host of business efficiency opportunities that are to be realized with cloud computing and demonstrates how to make this happen."—the authors of "Office 365"
New York, NY (PRWEB) February 04, 2014
The opportunity for organizations and businesses to reduce IT costs and improve productivity with increased access, simpler administration, and improved services has led many to adopt cloud-based services. As the cloud computing era continues apace, the number of small- and medium-sized businesses adopting Microsoft's Office 365 cloud storage platform, first released in 2011, continues to grow. The subscription-based service provides users with tools that they know: Microsoft Office and web applications, including hosted Exchange, SharePoint content management, Lync voice over Internet (VoIP) communications software, and other hosted services. "Office 365: Migrating and Managing Your Business in the Cloud"—newly published by Apress in partnership with Intel—provides IT professionals and business owners the business and technical insight necessary for successful deployment of Office 365.
The book takes a practical look at cloud migration and the use of different technologies to support that migration. Author Matt Katzer—Founder of cloud solution consultancy KAMIND—utilizes numerous examples of cloud migration with technical migration details drawn from the experiences of more than 8,200 users. Katzer and co-author Don Crawford detail how businesses that embrace the advantages of the cloud will receive huge rewards in productivity and lower total cost of ownership compared to those businesses that choose to ignore it. The challenge for IT professionals charged with implementing Microsoft Office 365 is to leverage these advantages with minimal disruption to their organization. With practical advice and instruction, readers will find an overview of Office 365's operation and usage for any size enterprise, methods of planning and migration, how to use SharePoint to improve business processes, troubleshooting installations, using compliance and data loss prevention tools, and Office 365-site management best practices.
"Our customers who use Office 365 have significantly reduced their IT services costs and their concerns in the areas of data security, compliance, and discovery. This book outlines a host of business efficiency opportunities that are to be realized with cloud computing and demonstrates how to make this happen," the authors explain. Multiple stakeholders will benefit from this insightful and practical look at making such a large organizational change.
Thanks to the open access publishing partnership between Apress and Intel, the eBook version of "Office 365: Migrating and Managing Your Business in the Cloud" is freely available to download and share under the ApressOpen program. For more information about the book, please visit http://www.apress.com/9781430265269.

ISBN: 9781430265269
680 Pages
User Level: Beginner to Advanced
Publication Date: January 14, 2014
Available eBook Formats: EPUB, MOBI, PDF
Print Book Price: $39.99
eBook Price: $00.00
About the Authors
Matt Katzer created KAMIND in 1998 to supply solutions using Microsoft and Intel Technologies for small- and medium-size business. He previously worked for Intel Corporation for 17 years managing engineering development and IT projects. Matt holds a BSEE from the University of Michigan and an Executive MBA from the University of Oregon. Don Crawford brings more than 40 years of experience in database systems, online systems, networks and security, business and project management, and strategic planning. He has held positions with local government in Oregon, Software AG, First Interstate Bank, Tektronix, CACI, OHSU and LocalDial. Now a partner in KAMIND, Don previously built a consulting business supporting industries including hospitals, medical organizations, technology companies, service companies, and nonprofits.
About Apress Media
With more than 1,500 books in print and e-formats, Apress is the authoritative source for IT professionals, software developers, and business leaders all over the world. Apress provides high-quality, no-fluff content that helps serious technology professionals build a comprehensive pathway to career success. Since 2007, Apress has been part of Springer Science+Business Media, one of the world's leading scientific, technical, and medical publishing houses, enabling global distribution of Apress publications. For more information, please visit http://www.apress.com.
ApressOpen is the world's most effective viral distribution platform for eBooks. Through ApressOpen, thought leaders in technology communities can distribute unique learning resources to readers around the world through free distribution of digital content. For more information, contact apressopen(at)apress(dot)com.