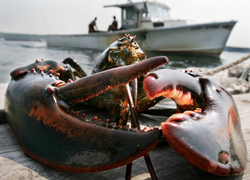 "I am in support of any effort by the state to preserve our precious commodity." -Mark Murrell of GetMaineLobster.com
(PRWEB) February 05, 2014
According to a Feb. 3 Associated Press article, Maine lawmakers will hold a public hearing on Thursday, February 6th on a bill that hopes to protect the state's lobster fishery by prohibiting the use of certain chemicals in Maine's water bodies.
The bill was introduced by Democrat Walter Kumiega of Deer Isle, Maine, and proposes banning the use of methoprene and resmethrin – two chemicals that are used to kill mosquitoes – in waters that drain into the Gulf of Maine or on land where runoff can occur into those waterways.
The Associated Press reports Kumiega's view that many believe that the heavy use of these chemicals in New York and Connecticut may be partially to blame for a large die-off in the lobster population there. The chemicals were used to prevent an outbreak of West Nile Virus in 1999. This bill is an effort to protect Maine lobster.
"Thus far, the state of Maine has done a great job protecting and nourishing our industry," says Mark Murrell, owner of GetMaineLobster.com. "I am in support of any effort by the state to preserve our precious commodity."
Rep. Kumiega is serving his second term in the Legislature and is House Chair of the Joint Standing Committee on Marine Resources. He has been appointed Maine's Legislative Commissioner to the Atlantic States Marine Fisheries Commission. The fishing industry is a major part of the economy in the district Rep. Kumiega represents.
About GetMaineLobster.com
GetMaineLobster.com, a division of Black Point Seafood and Black Point Gourmet, hand-selects the finest Maine lobster, seafood and beef products for convenient distribution throughout the United States. Their passion is to make fresh, quality seafood readily available to customers across the country, which is why they buy from only the most trusted, well-established suppliers to ensure that they receive the finest products available.
GetMaineLobster.com was selected out of the more than four million small American businesses served by Chase bank to represent its new Platinum Business Checking product for its 2013 national advertising campaign.