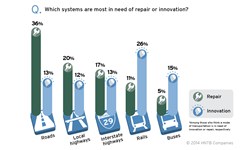 It's clear Americans are looking for a new transportation vision and are ready to get behind leaders who have the courage to promote a workable plan paid by user fees.
Kansas City, MO (PRWEB) February 04, 2014
Most Americans want the nation's transportation network and key infrastructure facilities to be improved, according to a new America THINKS survey from HNTB Corporation.
"The United States has seen a period of immense economic growth and potential that has grown out of investments made in the nation's transportation system over the last six decades. Today the returns on that investment are diminishing rapidly due to congestion, failing roads, bridges and transit rails," said Pete Rahn, HNTB leader national transportation practice. "Yet we haven't found a compelling vision that will drive future state and federal investments and spur even more future growth."
In fact, nearly 2 in 3 (65 percent) Americans fear a local infrastructure failure will occur within a year, while 9 in 10 think at least one mode of U.S. transportation needs a spark of innovation.
Today's U.S. infrastructure investments, approximately 2 percent of gross domestic product, have declined by 50 percent from 1960 and are regularly much lower than other countries, such as China and Brazil. Much of the nation's aging infrastructure is due for repairs or upgrades if not outright replacement, and whenever U.S. roads, bridges and rails suffer emergency closures or unexpectedly collapse due to age, accident or natural disaster, the public becomes acutely aware of the problem.
One in 5 (20 percent) Americans are extremely concerned about a potential failure. And nearly half (47 percent) believe physical infrastructure damage is more likely to be caused by lack of maintenance than age, faulty construction or a natural disaster. Yet many also believe the issue is only pushed to the forefront after a structural failure (38 percent) or natural disaster (37 percent) has caused destruction.
"It's time for America to get moving with needed investments in our infrastructure system," Rahn said. "It's clear Americans are looking for a new vision and are ready to get behind leaders who have the courage to promote a workable plan paid by user fees."
Many Americans think improvements are worth the investment. Two in 3 (66 percent) would be willing to pay more for at least one mode of transportation if it improved their travel experience.
That argument seems to be bolstered by recent results at the polls, where in November 2013, voters across the nation again confirmed the high value they place on transportation infrastructure improvements by approving 91 percent of ballot measures intended to increase or extend funding for highways, bridges and transit.
Learning from the past
Whether it's an emergency closure due to safety concerns, such as the original 80-year-old Lake Champlain Bridge connecting Crown Point, N.Y., and Chimney Point, Vt., in 2009; an accidental impact and resulting damage, such as the collapse of a portion of Interstate 5 over the Skagit River near Mount Vernon, Wash., last year; or the devastation wreaked by modern natural disasters, such as in the Northeast during Superstorm Sandy in 2012, Rahn said Americans often are vividly reminded of the importance of maintaining the nation's infrastructure.
An overwhelming majority (93 percent) of Americans think at least one U.S. transportation mode is in need of repair. The top modes these people believe need to be fixed are the ones they use the most: local roads (36 percent), local freeways (20 percent) and interstate highways (17 percent), rail (11 percent) and buses (5 percent).
Many Americans see a need for a proactive attitude, for example making needed repairs before getting hit by today's natural disasters to prevent further damage. In fact, an overwhelming majority (95 percent) thinks it's important to rebuild physical infrastructure so it survives increasingly intense weather patterns; 59 percent believes this construction is very crucial.
All together now
Rahn said that at HNTB, which recently recognized its 100th anniversary in the U.S. infrastructure industry, the firm's experience has shown there are solutions when a crisis forces states and communities to address today's aging infrastructure dilemma.
"In almost every instance where transportation facilities face an emergency, communities come together and are able to find funding, design, construction and policy solutions to quickly recover," Rahn said.
For example, after the Lake Champlain Bridge was closed, the Federal Highway Administration, the New York State Department of Transportation and the Vermont Agency of Transportation were committed to quickly restoring an essential lifeline to local communities. Working with HNTB, a replacement bridge was designed in just 10 weeks and constructed in less than 2 years, which was unprecedented.
"We need to get better at preparing for the future before our needs become acute," Rahn added. "That includes making all of our transportation options work better as a system."
In fact, many Americans are unhappy with local transportation options because they don't work together as well as they should. More than half (53 percent) think it's difficult to access different modes of transportation.
Better scheduling and seamless transferability would push drivers to leave their cars behind and hop aboard transit more often. In fact, nearly 2 in 3 (63 percent) Americans think the modes of transportation in their area need to be more efficient.
For those people, that includes better scheduling (56 percent), more frequent arrival and departure times (54 percent) or easier access and transferability (49 percent) would make a difference. Already more than 3 in 10 (31 percent) use more than one mode of transportation to get to a destination when leaving home. And they do so an average of six times a month.
Seventy percent of Americans would alter their actions if local mobility was seamless, with many taking public transit more (57 percent) and driving less (57 percent), with some (42 percent) even walking more.
Yet America is still a car-driven culture. In the world of wheels, nearly 9 in 10 (88 percent) Americans travel by car, with less than 1 in 4 (22 percent) riding public buses and even fewer getting around on subways (16 percent), light rail (16 percent) or bicycles (17 percent).
About the survey
HNTB's America THINKS transit survey polled a random nationwide sample of 1,152 Americans Sept. 26-Oct. 3, 2013. It was conducted by Kelton, which used an e-mail invitation and online survey. Quotas were set to ensure reliable and accurate representation of the total U.S. population ages 18 and over. The margin of error is +/- 2.9 percent.
About HNTB
HNTB Corporation is an employee-owned infrastructure firm serving public and private owners and contractors. Celebrating a century of service, HNTB understands the life cycle of infrastructure and addresses clients' most complex technical, financial and operational challenges. Professionals nationwide deliver a full range of infrastructure-related services, including award-winning planning, design, program delivery and construction management. For more information, visit http://www.hntb.com.