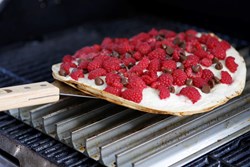 Nothing is more romantic than savoring a sweet, tasty dessert with a loved one.
Cartersville, GA (PRWEB) February 06, 2014
While many people will brave the crowds and eat out at their favorite restaurant on Valentine's Day, many others will be staying at home to cook their favorite dinner for two together. With Valentine's Day right around the corner, GrillGrate has published two new grilled dessert recipes for couples who plan to celebrate at home.
"Nothing is more romantic than spending time with a loved one, enjoying a delicious dinner, and savoring a tasty, homemade dessert," said Brad Barrett, President of GrillGrate. "Our website is loaded with a variety of grilling recipes many contributed by our customers, and now we are thrilled to debut these two delicious desserts, just in time for Valentine's Day."
After grilling a delicious Valentine's dinner, GrillGrate lovers can leave the grill on low to cap off their meal with a simple and sweet grilled dessert. Whether it's following grilled steak for two or a surf and turf specialty, GrillGrate's two new dessert recipes are perfectly portioned for a Valentine's Day celebration. (Link to Drop Box Photos)
The ingredients needed for each recipe include:
Grilled Raspberry Chocolate Yummy:
-2 Flour Tortillas
-Ricotta Cheese spread
-Chocolate chips
-Raspberries
Grilled Pear, Goat Cheese & Pepper Jelly Quesadilla:
-2 Flour Tortillas
-Goat Cheese or Philadelphia Cream Cheese
-Pear sliced thin
-Pepper Jelly
For the complete Valentine's Day dessert recipes, please visit GrillGrate.com.
GrillGrate is a patented new grill surface that is revolutionizing grilling. Interlocking raised rail panels either lay on top or replace the existing cooking surface. A raised rail design with a bottom plate with holes blocks flare-ups and traps juices sizzling with the food. Foods are juicier, more tender, not burned or dried out. A wider array of foods can be grilled with GrillGrate including quesadillas, fish, pizza, and vegetables. Three years in a row the World Championship Steak Cookoff® was won using GrillGrates.
GrillGrate LLC is based in Georgia. GrillGrates are made in the USA.