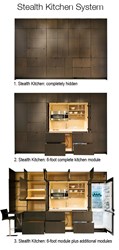 Resource Furniture selected Stealth because of its breakthrough technology and fine craftsmanship - it will be a game-changer in both residential and contract kitchen design.
New York, NY (PRWEB) February 05, 2014
Resource Furniture proudly announces the debut of the Stealth Kitchen Modules. This revolutionary new product refines the concept of the kitchen, allowing all full-sized appliances, work surfaces and storage areas to become completely invisible when not in use.
In as little as six linear feet, Stealth Kitchen incorporates all the necessities of a high-end, modern kitchen – refrigerator, freezer, dishwasher, microwave, oven, cooktop, sink, counter space and abundant storage – all cleverly concealed behind a wall of cabinetry that blends seamlessly into its surroundings.
Merging high design, state-of-the-art performance, meticulous craftsmanship, modular flexibility, and unmatched safety, the Stealth Kitchen is completely and safely concealed when not in use. Visible only when needed, the Stealth Kitchen permits a single space to elegantly perform multiple functions. The kitchen can now be placed in areas never before possible, allowing for superior flexibility in space planning and interior design.
The Stealth Kitchen is modular, flexible and offers a great deal of customization opportunities for both residential, contract and development installations, transforming any space where a hidden – yet fully functional – kitchen is desired:

Hotels and Resorts
Development Projects
Small Homes
Studio Apartments
Guest Suites
Pool Houses
… can all take advantage of Stealth Kitchen's breakthrough technology and flexibility of design to maximize space, increase functionality and add measurable value to every project. 
Stealth Modules in the form of pantries, double ovens, island units, washer/dryer laundry centers, and dry/wet bars among many others can be used to create limitless kitchen configurations.
The smaller footprint required by a Stealth Kitchen as compared to a traditional kitchen with similar features alone makes the Stealth Kitchen a highly sustainable choice, but the eco-friendly Stealth Kitchen also boasts:
Qualification for up to six LEEDS points in seven categories, depending on specifications and actual use
Locally-sourced hardwood
Formaldehyde-free plywood
CARB2-compliant materials
"The Stealth Kitchen is the perfect example of form meeting function. It is an ideal complement to our growing collection of products and solutions that change the way people perceive space and function in their environment." said Ron Barth, co-founder of Resource Furniture. "Resource Furniture selected Stealth because of its breakthrough technology and fine craftsmanship - it will be a game-changer in both residential and contract kitchen design."
More than six years in research and development, Stealth Kitchen Modules is proudly manufactured in the U.S. by YesterTec Design Company and is available exclusively from Resource Furniture. Featuring proprietary, patented technology, it is the first product of its kind to meet Underwriters Laboratories' (UL) stringent safety standards, and is approved for use by the New York City Department of Buildings. Developers, architects and builders should speak with us about other local building department regulations and approval processes.
###
About Resource Furniture
Resource Furniture is the original – and largest - source for cutting-edge, multi-functional living systems in North America, offering the most inspired and innovative furniture solutions available in the world for more than 14 years. With showrooms in New York, Los Angeles, Toronto, Vancouver, Calgary, and Mexico City, Resource Furniture continues to define and revolutionize the industry by offering the most technologically innovative, space-saving and sustainable products in the world, all of which transform any space with both beauty and functionality. http://www.resourcefurniture.com
About YesterTec Design Company
Since 1997, YesterTec has been designing and manufacturing high-quality, innovative alternatives to the traditional, standard, built-in kitchen. Unique to the industry, YesterTec's patented, UL Listed technology allows all of heat-generating appliances such as ovens and cook tops to be safely concealed inside cabinetry. Product lines include Kitchen Workstation Furniture, Stealth Kitchen Modules, and Mini-Kitchens and Hospitality Centers.