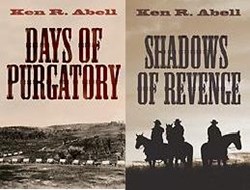 Get ready to meet the best kept secret in Western writing! These are two wonderful new additions to the genre.
(PRWEB) February 05, 2014
Days of Purgatory is a mystery thriller set against the backdrop of westward expansion during the Civil War. Deke Coburn's story is part historical epic, part spiritual journey. A man on the run from his past, he encounters friendship wherever he can find it. In his travels, he stumbles upon abolitionists as well as a nightmare that tries his conscious and pushes him to finally take a stand against evil.
This fateful Western explores disturbing themes that touch on the depravity of the human soul, as it makes readers examine the meaning of their own faith, hope, and spirituality.
Shadows of Revenge continues Deacon Coburn's story. The sequel is an adventure mystery set in Abilene, Kansas in 1872. Following the Civil War, Coburn has reconciled his past and is now a man of faith. But his past is about to catch up to him.
This tale of faith and redemption features a headstrong orphan seeking to live out her dreams; a childless widow pursuing meaning in her life; a reformed prostitute wanting to return to her childhood faith; and a young man who has made tragic choices. The novel shows that no matter how ugly our past, everyone can choose new beginnings.
About the Author: Ken R. Abell of New Mexico seeks to be a blessing to others. He's a rake, a rambler, and a teller of tales who understands that there's strength in a story well told and well lived. He has been actively involved in pastoral ministry for 20 years and those experiences enrich all his endeavors.
Author websites: http://www.danceswithcorn.com and http://www.wantedman.org
DAYS OF PURGATORY (ISBN: 978-1-62032-285-7) and is SHADOWS OF REVENGE (ISBN: 978-1-62564-093-2) are both available for $9.99 and can be ordered through the Wipf & Stock Publishers website:
https://wipfandstock.com/store/Days_of_Purgatory or at Amazon and Barnes & Noble.
Author Marketing Ideas (AMI)