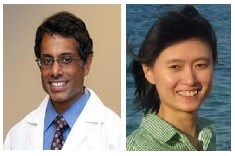 It is imperative that the best and brightest young scientists have the funds necessary to study and treat cancer.
Stamford, CT (PRWEB) February 06, 2014
Alliance for Cancer Gene Therapy (ACGT) – the nation's only non-profit dedicated exclusively to cell and gene therapies for cancer – is redoubling its efforts to treat and combat cancers in the New Year, and announces $1 million in recent grants.
The funding – spread across three grants – will support basic and clinical science at premier institutions in and outside the United States, with ACGT's mission top-of-mind: uncovering effective, innovative cancer treatments that supersede radiation, chemotherapy and surgery.
This January, ACGT's President and Co-Founder Barbara Netter has announced two Young Investigator Grants that provide promising researchers with $250,000 each for two- to three-year studies.
Young Investigator Fan Yang, PhD – Assistant Professor of Orthopedic Surgery and Bioengineering at Stanford University – will use the funds to research new treatment options for pediatric brain cancer, the leading cause of death from childhood cancer. Dr. Yang's study will deploy adult-derived stem cells to target solid brain tumor cells, which are often highly invasive and difficult to treat.
Arnob Banerjee, MD, PhD – Assistant Professor of Hematology and Oncology at the University of Maryland – will use ACGT's funding to further develop the long-term effectiveness of immune-mediated treatments, the most advanced form of gene therapy.
"It is imperative that the best and brightest young scientists like Fan Yang and Arnob Banerjee have the funds necessary to study and treat cancer," Netter said. "This was my husband Edward's vision in 2001, when gene cell therapy was a fledgling science. We are proud to continue his pioneering foresight today." Partnerships with Dr. Yang, a former fellow at MIT, and Dr. Banerjee, a former fellow and instructor at the University of Pennsylvania, dovetail with ACGT's record of funding outstanding researchers and physicians with the capability to make unprecedented breakthroughs.
The Young Investigator grants come on the heels of a $500,000 Investigator's Award to John Bell, PhD, Senior Research Scientist and Professor of Medicine at the Ottawa Hospital Research Institute in Canada. Dr. Bell has worked extensively with oncolytic viruses – man-made viruses that target only cancer cells, and spare patients the harrowing side-effects of chemotherapy, radiation or surgery – and has discovered the enormous promise they offer in the war on cancer.
"The research and trials funded by ACGT's grant have the potential to treat metastatic and recurrent brain cancer, extend patients' survival timeline, and vastly improve patients' quality of life during treatment," Dr. Bell said.
ACGT has served as a major funding engine in the fight against cancer since its formation in 2001, and has provided nearly $25 million in grants to date. ACGT was created by Barbara and Edward Netter after the loss of their daughter-in-law to breast cancer. Since Edward's passing in 2011, Barbara Netter has led the foundation as President and Co-Founder, continuing her husband's vision.
About Alliance for Cancer Gene Therapy (ACGT)
Established in 2001, ACGT (http://www.acgtfoundation.org) is the nation's only not-for-profit exclusively dedicated to cancer cell and gene therapy treatments for all types of cancer. One-hundred percent of contributions go directly to research. ACGT has funded 44 grants in the U.S. and Canada since its founding in 2001 by Barbara Netter and her late husband, Edward, to conduct and accelerate critically needed innovative research for all types of cancer. ACGT's Scientific Advisory Council is comprised of 16 of the nation's most distinguished physicians and researchers in cell and gene therapy, who thoroughly review all grants. Since its inception, ACGT has awarded 29 grants to Young Investigators and 15 grants to Clinical Investigators, totaling $24.7 million in funding. Barbara Netter, as President, together with other members of the Board of Directors, are fully committed to ACGT's continued support of this research. ACGT is located at 96 Cummings Point Road, Stamford, CT 06902.
ACGT on Facebook: http://www.facebook.com/ACGTfoundation
ACGT on Twitter: http://www.twitter.com/ACGTfoundation
ACGT on YouTube: http://www.youtube.com/user/ACGTfoundation