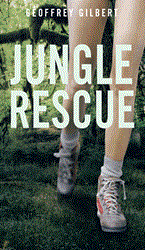 Grenada, West Indies (PRWEB) February 06, 2014
From humble beginnings in a poor rural community, author Geoffrey Gilbert knew early on that he had a passion for books.
He would frequent a little bookstore along his route to school, where the store manager saw his keen interest in literature and allowed him to read several books and magazines in the store since he had no money to purchase them.
Through his latest work, a fast paced adventure set in the tropics, Gilbert hopes to create a positive impact as a Caribbean author and share his passion with his readers.
"Reading had such a strong impact on my life from a young age that I felt it imperative to pass on the magic of literature and writing through my own works. I hope that my experiences as an author will also inspire authors from my tiny island state to present their work on the international stage," Gilbert said.
In his book, "Jungle Rescue," Christina Preston is a young American exchange student who travels to Colombia despite her father's protests. Christina's exciting journey quickly became a nightmare when masked gunman kidnapped her from a university tour bus. Once her father learns of his daughter's situation, he hires a retired United States Navy Seal to bring Christina home. Readers can connect to Gilbert's strong female lead that can inspire readers to follow their dreams.
"Jungle Rescue"
By: Geoffrey Gilbert
ISBN: 978-1-4918-1689-9
Available at Amazon, Barnes and Noble, and AuthorHouse online bookstores.
About the author
Geoffrey Gilbert has worked in the private sector for 32 years and is currently the General Manager of the Grenada National Lottery Authority.