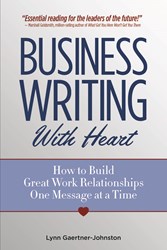 The once-a-year heart-shaped donuts and e-cards aren't enough. You have to add heart to your communications every day.
Seattle, Washington (PRWEB) February 05, 2014
According to business writing expert Lynn Gaertner-Johnston, telling customers and coworkers "We [heart] you!" and "You rock!" with treats, cards and gifts on Valentine's Day is too little effort to build lasting relationships. In her new book, "Business Writing With Heart: How to Build Great Work Relationships One Message at a Time," Gaertner-Johnston makes the case for writing with heart, communicating respect, empathy and positive intent, in every message, even routine emails. "The once-a-year heart-shaped donuts and e-cards aren't enough," she states. "You have to add heart to your communications every day."
Gaertner-Johnston, who leads business writing classes at Fortune 500 firms through her company, Syntax Training, asserts that the absence of heart in emails, text messages and other writing causes business inefficiencies and losses. "Writers use their heads when they write," she says, "but they often forget to use their hearts. Yet the lack of heart in messages causes new employees to flounder, coworkers to simply coexist rather than collaborate and clients to take their business elsewhere."
To communicate with heart, Gaertner-Johnston recommends that professionals make these simple gestures part of their daily business writing:

Greet the reader by name as you would in person or on the phone—even in text messages.
Proofread people's names. "Kristen" will not feel appreciated if your message calls her "Kirsten."
Use phrases such as "glad to" and "look forward" to communicate warmth and a positive attitude.
Remember basic manners, using "please" and "thank you," even in routine messages.
Include your first name at the end—not just your signature block—to come across as a person, not a position.
Avoid abrupt one- and two-word messages that confuse people and damage relationships.
Reply quickly whenever possible. Don't leave colleagues and customers hanging.
Beyond politeness and consideration in every message, Gaertner-Johnston recommends seizing the opportunity to build work relationships by writing heartfelt messages such as thank-yous, congratulations, condolences and apologies. To support the investment of time in thank-yous, she cites a survey she conducted in which 81 percent of 686 respondents agreed that a thank-you note they received had a definite positive influence on their decision to do business with an individual or a business again.
The 436-page paperback edition of "Business Writing With Heart" (ISBN 978-0-9778679-0-5) retails for $24.95 and is available through bookstores and Syntax Training. The e-book (ISBN 978-0-9778679-1-2) costs $9.99 at Amazon and Barnes & Noble.
About Lynn Gaertner-Johnston
Founder of Syntax Training in Seattle, Washington, Lynn Gaertner-Johnston has led business writing classes at more than 100 companies and organizations, including MasterCard, Lockheed Martin, Organic Valley Family of Farms, AARP and Kaiser Permanente. A recognized expert in business writing etiquette, she has been quoted in the Wall Street Journal, The Atlantic and other media. She has taught managerial communications in the MBA programs of the University of Washington and UW Bothell.