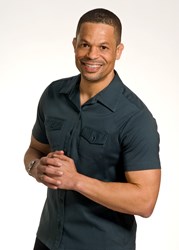 "You can eat fried food and still lose weight and be healthy." - Robert Ferguson
Los Angeles, California (PRWEB) February 05, 2014
The Downy Obesity Report predicts by 2035, 80% of African American women will be obese.
This same report says 80% of African American men will be obese in 2079.
African American history is rich in tradition, accomplishments and cuisine dating back to American slavery. Following slavery, African Americans became exceptional at making the most of the food choices they had to work with, and this continues to this day.
Unfortunately, soul food is often blamed for poor health and the growing rates of obesity. What most people aren't aware of is that they can eat soul food and reduce the waistline and live their healthiest life.
Robert Ferguson, author, certified nutritionist, fitness expert and a leading voice of wellness and weight loss blends the rich history of soul food with a modern-day integration of ingredient alternatives that makes it waistline-friendly and heart healthy. The best part – you don't lose any of the soulful flavor!
Traditional Soul Food Dishes Enjoyed without Losing the Flavor and Cultural Appeal. Robert Ferguson Demonstrates How to Make Soul Food a Fat Burning Experience!
Unhealthy ways includes cooking with the wrong oils that can result in free radicals and inflammation.
Healthier ways includes cooking with the right oils - those with higher smoke points when deep frying.
"Robert Ferguson is a wellness and weight loss guru!" - Ebony Magazine
Soul food has come a long way — from fried chicken and fish "shacks" to upscale dining establishments. Today, you can enjoy soul food in every African-American community in the nation, especially in cities with large black populations, such as Chicago, New York, New Orleans, Los Angeles and Washington, DC.
It's true that eating soul food cooked with trans fatty acids along with little to no exercise or activity to work the calories off can contribute to the increasing rates of obesity, hypertension, cardiac/circulatory problems and/or diabetes. It is also widely accepted that the consumption of soul food has contributed toward shortening the lifespan of African Americans.
Soul food does not have to be demonized. The truth: you can eat soul foods like Fried catfish, biscuits and gravy, pork rinds and even pork ribs in a way that reduces the waistline and extends the lifeline. It's all about the cooking method, how the food is combined and the amount one eats at a single time. Robert Ferguson shows you how small tweaks to how you cook and eat soul food can keep your body in fat burning mode.
Robert Ferguson:
Creator of the Diet Free Life System™ and the "Eat to Lose" concept that teaches people how to eat real food (favorite foods) and lose all the weight one wants!

Robert serves on the Presidential Task Force on Obesity for the National Medical Association and consults on the Let's Move campaign.
Certified nutritionist, fitness expert and life coach who has worked with Fortune 500 companies, celebrities and top professional athletes to include La Toya Jackson, Ricki Lake, Toni Braxton, Bobby Bonilla, Fernando Vargas and the soap opera Days Of Our Lives.
Robert has been featured on many nationally syndicated shows to include the Steve Harvey Show, Good Morning America, Fox & Friends and the 700 Club to name a few.
Robert is a bestselling author who has helped over 500,000 people lose weight with his Diet Free Life methodology.
Robert is the host of a weekly one-hour radio show, which is part of the Tavis Smiley Network.
To contact Robert Ferguson for interviews and television appearances, call Lila Romero at 951-894-9118 or e-mail lila(at)dietfreelife(dot)com.