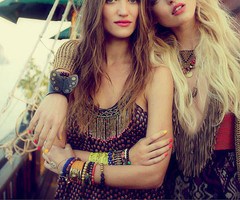 "we are dedicated to creating handmade pieces for our fans to treasure..."
San Francisco, CA (PRWEB) February 05, 2014
Today, Etsy-success Three Bird Nest Designs announced its acquisition of the Los-Angeles-based Karen Kell Collection (KKC), effective this quarter. In combination with the newly acquired bohemian KKC line, Three Bird Nest Designs now offers an even wider array of custom designed fashion pieces to enthusiasts of handcrafted apparel & acessories.
Both companies, grown from the desire to cultivate an impeccably designed accessories collection, strive to use bohemian-inspired and vintage materials to show up-cycled and handmade items offer exceptional quality and unique styling. It was their similar backgrounds, and the common goal to offer custom pieces worldwide through the Etsy marketplace, that brought these two brands together.
Three Bird Nest's Etsy shop-front offers consumers hundreds of independently designed accessories, ranging from head wraps to lace boot socks, and with the acquisition of KKC this grows into leather jewelry and shoes, offering a fully developed line of bohemian-inspired accessories.
"It's a natural fit and next step to fill out our line with the addition of KKC pieces and I am excited to see both lines progressively grow and create opportunities and excitement for each other," said Alicia Shaffer, founder and owner of Three Bird Nest. "Watching our line grow from a dozen head wraps into a line of nearly 500 pieces, adored by our fans, has been a thrill, and I am excited to see the same for Karen Kell pieces."
Karen Kell, founder and designer of KKC, is looking forward to seeing the brand grow and develop, allowing her to return to the roots that led her to create the line initially, by continuing to design for the brand. "I began the line because of my love for creating bohemian-inspired accessories by reviving traditions of leather working in Mexico," said Karen Kell, "and I am delighted to have the opportunity to refocus on design, while the line continues to expand."
Both lines are expected to merge for wholesale accounts and online at http://www.threebirdnest.com, while both shops will remain opened independently on the Etsy marketplace. It is undetermined if the KKC line will be rebranded under a different name.
About Three Bird Nest Designs Three Bird Nest, founded in the San Francisco Bay Area in 2011, is an online-based fashion accessories collection bringing unique and up-cycled accessories to customers around the world. Through attention to detail and thoughtful design the company continues to design for the free spirit. Three Bird Nest is based in Livermore, CA. Learn more at http://www.threebirdnest.com
About Karen Kell Collection
The Karen Kell Collection, based in Los Angeles, CA and launched in 2009, is a handmade leather-crafted line based on Mexican leather crafting traditions. Learn more at https://www.etsy.com/shop/karenkell