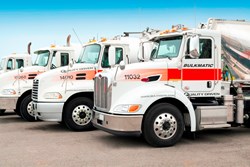 In our first 60 days we saw real results and significant improvement with SmartDrive
San Diego, California (PRWEB) February 05, 2014
SmartDrive Systems, a leader in driving performance solutions that reduce collisions and improve fuel efficiency, today announced that Griffith, Indiana-based dry bulk transportation services provider Bulkmatic Transport is outfitting its entire fleet of over 500 vehicles with the SmartDrive video- and data-capture system. The decision was made following the successful pilot of the SmartDrive solution at three of the carrier's locations.
"The SmartDrive video and data capture system enhances the information we have to successfully coach drivers and improve fleet safety," said Terry McAdams, VP of Safety at Bulkmatic. "What used to take months to discover, our regional safety managers can now learn in a day and bring that information to drivers when it can have the greatest impact. In our first 60 days, we saw real results and significant improvement, including improved fuel savings and dramatically lower occurrences of risky driving behaviors."
Bulkmatic's evaluation of the SmartDrive system began at its Decatur, Alabama facility in March of last year. Results of that initial deployment included up to an 87% improvement in driving skills and sustained fuel savings of 3.03%. Following that test, the company outfitted more tractors with the SmartDrive solution at their Chicago and Ft. Worth locations, with an added focus on Mobile Phone/Device Distractions, resulting in reductions in those activities.
"Professional athletes use video to improve, why not professional truck drivers?" McAdams said. "SmartDrive is an eye opening and very powerful tool that was easy for our managers to quickly adopt. It allows us to make significant progress by simply showing our drivers areas for improvement, and it helps discover risky driving skills before they cause an incident."
McAdams added that their drivers have had a positive reaction to the program, especially after several collisions in which the Bulkmatic drivers were exonerated as a result of SmartDrive. In addition, the analysis that accompanies each video, coupled with an easy-to-use coaching application, saves their fleet safety managers time and enables more effective discussions with their drivers.
"The fast-time-to-value Bulkmatic experienced is typical of the results we've seen across the thousands of commercial vehicles deployed with our program," said Steve Mitgang, CEO of SmartDrive. "Our open-platform with direct connection to the engine control unit enables us to capture more risk than other systems - such as rolling stops caused by mobile phone usage. This approach ensures fleets experience continued improvement and sustained results beyond the first year of deployment. We are proud to have been selected by Bulkmatic to help them improve safety while also improving their bottom line."
About SmartDrive Systems
SmartDrive Systems gives fleets and drivers unprecedented driving performance insight and analysis, helping save fuel, expenses and lives. Its video analysis, predictive analytics and personalized performance program help fleets improve driving skills, lower operating costs and deliver significant ROI. With an easy-to-use managed service, fleets and drivers can access and self-manage driving performance anytime, anywhere. The company has compiled the world's largest storehouse of more than 60 million analyzed risky-driving events. SmartDrive Systems is based in San Diego, CA, and employs over 400 people worldwide.
Follow SmartDrive on:
Facebook - http://www.facebook.com/smartdrivesystemsinc
Twitter - http://www.twitter.com/smartdriveinc
YouTube - http://www.youtube.com/smartdrivesystemsinc
LinkedIN - http://www.linkedin.com/company/smartdrive-systems
Media Contact:
Susan Fall
LaunchIt
858-490-1050
susan(at)launchitpr(dot)com