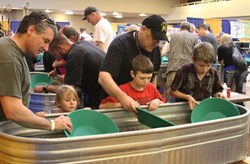 The GPAA has brought back the Alaska Gold Expedition giveaways in 2014 — two at each expo. Each trip is good for one person for two weeks and includes airfare to Nome, Alaska.
Fresno, California (PRWEB) February 07, 2014
The Gold Prospectors Association of America is headed to Fresno, Calif. for the Gold and Treasure Expo Feb. 22-23, 2014 in Fresno, Calif. at the Fresno Fair Grounds.
Executive Director of Operations Dominic Ricci said the GPAA Gold and Treasure Expos were started decades ago by GPAA founder George Massie to introduce people to prospecting and show them how and where to find their own gold.
"We encourage everyone to bring their family and friends because there is no better place to learn how to find your own gold and experience panning for yourself. There are plenty of fun and activities for all ages," Ricci said.
Besides the fun factor, the purpose of the expos is also to remind everyone that gold prospecting and small-scale mining are still a way of life for hundreds of thousands of people across the country and an important part of American culture, history and the economy.
Gold prospecting has become increasingly popular in the past few years with spiking gold prices and a struggling economy. The growing interest in gold is reflected in not only the longest-airing prospecting TV show "Gold Fever," hosted by GPAA owner Tom Massie, but several new gold mining reality TV shows.
Each year, the expos have something new and exciting to offer with the constant advancement in mining supplies, said GPAA Trade Show Manager Gary Sturgill.
"We have introduced a few new features for the 2014 Gold and Treasure Expo season," Sturgill said. "A new Hands-on Prospecting Experience allows participants the opportunity to purchase a bucket of paydirt and get a one-on-one lesson with a manufacturer on how to use small-scale mining equipment. The manufacturer will walk you through the process from paydirt to clean gold that you can keep."
For decades, the GPAA has been traveling around the U.S. with some of the most well-known and trusted equipment dealers, giving attendees an opportunity to learn about the products that benefit them in the field.
"Dozens of mining equipment vendors and manufacturers are to ready to share their secrets of gold prospecting with you," Sturgill said.
Two manufacturers, Gold Cube and Jobe Wholesale, have signed on to be part of the Hands-on Prospecting Experience. Two different size concentrate buckets for this experience can be purchased in advance at http://www.GoldandTreasureExpos.com or at the GPAA booth inside the Expo for $50 or $100.
For those who don't want to purchase a bucket, there is a complimentary 'catch-and-release' gold panning experience called the GPAA Gold Panning Zone.
"For those expo attendees just looking to get hands-on gold panning experience, the new GPAA Gold Panning Zone is the place to be," Sturgill said. "Not many shows allow participants a chance to get a gold panning lesson from an experienced prospector using real gold."
Since this is a free experience using real gold, participants must return the gold when the panning lesson is over.
"The GPAA Panning Zone is made up of 42 feet of water troughs manned by seasoned prospectors who know everything there is to know about panning for gold," Sturgill said.
"The GPAA has brought back the Alaska Gold Expedition giveaways in 2014 — two at each expo. Each trip is good for one person for two weeks and includes airfare to Nome, Alaska," Sturgill said.
Winners, and others who decide to sign up for the Alaska Gold Expedition, will visit the GPAA's famous Cripple River Mining Camp, a popular summer prospecting destination on the shores of the Bering Sea, 12 miles from Nome. The 2,300-acre property and camp offers the best in gold prospecting adventure.
"All Gold and Treasure Expo attendees over 18 years of age have an opportunity to win this unforgettable and exciting adventure. With admission to the expos, attendees are given a raffle ticket for the drawing to be held at the end of each day of each show," Sturgill said.
Thousands of dollars in other prizes, including metal detectors, sluice boxes and concentrators, will given away to lucky participants. Additional tickets can be purchased throughout the expo with proceeds going to the local Valley Children's Hospital and Public Lands for the People.
Local Fresno GPAA Chapter President Nancy Roberts is excited about the new features this year and will be at the show along with other members of the Central Valley Prospectors to introduce newcomers to gold prospecting.
"We will teach them. We are very proud of that — and it's fun," Roberts said.
Roberts encourages everyone young and old and from all walks of life to attend the Fresno show.
"Even for older people who think they can't mine anymore, we have a saying in our chapter: 'Everyone can't do everything, but everyone can do something.' We take pride in setting up something for everyone to do."
"We want to make sure people know this is a gold prospecting show and not a gold jewelry show, although there will be lots of jewelry as well," she said.
Another feature for young attendee attendees is the Scavenger Hunt.
"I am totally excited about the GPAA Gold Panning Zone and the Scavenger Hunt," Roberts said.
As they enter the show, each child will receive a Scavenger Hunt card with eight color photos of the items painted in gold and hidden around the expo in vendors' booths. Once the kids have found and gotten a stamp on all eight items, they can turn in their completed cards at the GPAA booth, where they will be entered in a drawing for a Junior Panning Kit at the end of each day of each show.
GPAA Executive Director of Development Kevin Hoagland, a seasoned prospector and metal detectorist, has taken a lead role in the seminar series this year with a "back to the past" theme. Guest speakers will include nationally recognized speakers who will share their knowledge of gold prospecting, gem and treasure hunting and artifact recovery. Local experts will also be on hand to help attendees gain a better understanding of regional geology as well as tips and tricks for working these grounds.
"During the seminars, participants will get a chance to ask questions directly to many of the top small-scale mining manufacturers about their mining equipment and accessories," Hoagland said.
The 2014 GPAA Gold and Treasure Expos are open to the public. Admission is $5 for adults. There is no charge for children under 12. Each paid attendee will receive a 14-inch GPAA Gold Catcher Gold Pan and a copy of Gold Prospectors, the GPAA's national magazine, a total value of $13.99. Also, the first 100 paid attendees will receive a free vial with real gold. For more information about the 2014 GPAA Gold and Treasure Expos and pre-registration, visit http://www.GoldandTreasureExpos.com.
To join the GPAA or Lost Dutchman's Mining Association, go to http://www.goldprospectors.org.
Upcoming GPAA Gold and Treasure Expos:
Fresno, Calif. — Feb. 22-23, 2014
Fresno Fair Grounds
1121 S Chance Ave, Fresno, CA 93702
(559) 650-3247
Lancaster, Calif. — April 12-13, 2014
Antelope Valley Fairgrounds
2551 W Avenue H, Lancaster, CA 93536
(661) 206-0427
Las Vegas, Nev. — April 26-27, 2014
South Point Hotel & Casino
9777 Las Vegas Blvd South
Las Vegas, NV 89183
1-866-796-7111
Puyallup, Wash. — May 10-11, 2014
Puyallup Fair and Events Center
110 9th Ave SW, Puyallup, WA 98371
(253) 845-1771