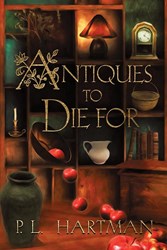 Who knew antiquing could be so dangerous?
(PRWEB) February 06, 2014
Everything was going so well at popular and picturesque Cider Run Antiques until one rainy night in May. Then the unthinkable happened.
When a centuries-old stone building is transformed into an antiques shop, a lively mix of dealers is brought together. They are witty, antiques-savvy and companionable, and the shop is an outstanding success. But beneath the surface of high-spirited banter and good times, a dark undercurrent is growing. Two years after the shop's founding, someone is insidiously murdered, the weapon an antique from the shop, and the body hidden in a blanket chest.
Who could have committed murder and left, locking the door behind, if not one of the dealers? To help the police detective in his investigation, the dealers agree to hold a marathon talk session, knowing the answer might destroy everything.
Set in the Appalachians of Central Pennsylvania, the story combines historical lore of the area, dealers' passions, and the obsessions of collectors to tell a tale. A glimpse into a thriving antiques business, the appeal of the past, a mystery to solve … this is a book "to die for."
ANTIQUES TO DIE FOR (ISBN: 978-1-62516-746-0) is now available for $22.50 and can be ordered through the publisher's website:
http://sbprabooks.com/PLHartman or at www(dot)amazon(dot)com or www(dot)barnesandnoble(dot)com.
WHOLESALERS: This book is distributed by Ingram Books and other wholesale distributors. Contact your representative with the ISBN for purchase. Wholesale purchase for retailers, universities, libraries, and other organizations is also available through the publisher; please email bookorder(at)aeg-online-store(dot)com
About the Author: P. L. Hartman has been an antiques dealer for 20 years. Her business, The Antique Sideboard, specializes in antiques for dining and décor, and is part of a multi-dealer shop in Pennsylvania.
Strategic Book Publishing and Rights Co, LLC