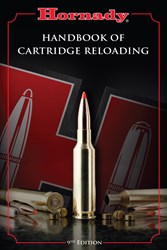 (PRWEB) February 05, 2014
The 9th edition "Hornady Handbook of Cartridge Reloading" is now available as an eBook via the iTunes iBook store for Apple products such as the iPad, iPhone and other compatible products. A Kindle edition is also available on the amazon.com Kindle bookstore for Kindle readers and Android tablets with the Kindle App.
Reloaders will find the 9th Edition "Hornady® Handbook of Cartridge Reloading" to be an invaluable resource for their bench. You'll find over 900 pages representing data of all the newest Hornady® bullets like the NTX®, GMX® and FTX®, plus longtime favorites like the V-MAX®, SST®, InterBond®, InterLock®, A-MAX®, XTP® and more.
Each cartridge features applicable Hornady® bullets along with velocity/powder charts for quick and easy reference. Cartridge additions include the 17 Hornet, 327 Federal, 356 Winchester, 5.56 NATO, 416 Barrett and 505 Gibbs.
There is also expanded data on over 20 favorites like the 223 Rem, 300 Whisper/AAC Blackout, 308 Win, 25-06, 257 Wby Mag and many more.
A variety of propellants such as Power Pro Varmint, AR-Comp, CFE-223, among others have been added, in the 9th edition, to many popular cartridges.
In addition to the comprehensive reloading charts, this reference manual provides shooting enthusiasts with in-depth, easy-to-understand explanations of internal, external and terminal ballistics.
The eBook sells for $18.99.
For additional information, access iTunes or Amazon.com.
Founded in 1949, Hornady® Manufacturing Company is a family owned business headquartered in Grand Island, Nebr. Proudly manufacturing products that are made in the USA, Hornady® Manufacturing is a world leader in bullet, ammunition, reloading tool and accessory design and manufacture.
For further information regarding Hornady® products, visit the Hornady website. Media members interested in Hornady® products for editorial review should Neal Emery.