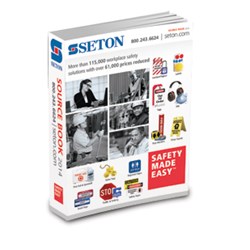 Branford, Conn. (PRWEB) February 05, 2014
Seton, a global manufacturer and distributor of safety products, welcomes the new year with the launch of its 2014 Source Book, a complete catalog of workplace safety products for companies representing a variety of industries.
The 940-page catalog features a large selection of product offerings, including a collection of new products—from first aid stations, PPE stations and emergency evacuation stations to foam guards that prevent warehouse accidents and injuries.
Other new products include Asset Guard PRO software for asset tracking, Skipper™ traffic control products to help improve outdoor safety, and dry erase safety score boards that allow for personalization. There is also a new line of LabelTac™ printers, which are universal printers for customers who want to print their own signs and labels.
"Our latest catalogs make it easier for customers to find everything they need to protect their employees all in one place," said Guylaine Guerette, Product Content Marketing Manager. "In addition to finding high-quality signs, tags and labels, they can also purchase personal protective equipment, first aid kits, first aid supplies and eyewash stations. We've made it easier than ever to improve workplace safety, while saving valuable time and money."
The new catalog also marks the launch of Seton's new Safety Made Easy™ promise, which promotes the company's commitment to helping customers easily find the safety products they need.
Through the Safety Made Easy™ promise, Seton guarantees customers will find what they need to ensure their organizations remain safe, compliant and productive. Customers will also get the most value for their money and all of the support and guidance they need built on nearly 60 years of workplace safety experience.
"We felt the launch of the new 2014 catalog was the ideal opportunity to introduce our new Safety-Made-Easy™ promise to our customers," said Global Strategic Marketing and Research Manager (Workplace Safety Division), Corrie Freudenstein. "We want customers to know that Seton wants to make it easier for them to ensure their organizations are safe and compliant."
Overall, Seton boasts a vast collection of 115,000 products with price reductions on more than 61,000 of those products and 7,000 new products offered.
In addition to the new and returning favorite products in the 2014 catalog, Seton customers continue to enjoy the high-quality customer service Seton has offered for decades. OSHA-authorized sales representatives guide customers who need help determining just the right product for their needs and ensure those solutions promote compliance.
If customers can't find exactly what they're looking for in the catalog or online, Seton offers customized products created to a customer's exact requirements.
Other new catalogs for 2014 include a 452-page buyer's guide and 176-page best sellers catalog.
To receive a copy of the new 2014 Source Book or any Seton catalog, call 800-243-6624 or visit http://www.seton.com/requestcatalog.
###
For nearly 60 years, Seton has been the source for workplace safety solutions. Seton's products are designed to increase workplace safety and enhance facility marking applications for millions of customers around the globe.