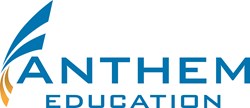 (PRWEB) February 07, 2014
Anthem Education Group (AEG) reminds the community that the sweetness of Valentine's Day shouldn't overshadow the importance of February being National Children's Dental Health Month. According to the Centers for Disease Control and Prevention, tooth decay is the leading chronic infectious disease among children in the U.S. and can lead to developmental issues affecting eating, speaking, socializing, learning and more. The good news is, tooth decay can easily be prevented with proper dental care.
"It is never too early to teach children proper flossing technique," said Tania Phillips, Associate Vice President for Curriculum and Program Compliance for Anthem Education Group. "In fact, parents can start gently flossing their baby's teeth as soon as two teeth appear."
When educating your children about flossing, keep these five tips from the Anthem Education Group Dental Assistant program in mind:
1. Use a threader to assist in flossing. Threaders are especially helpful if you have braces or other dental appliances.
2. Floss before you brush so fluoride in toothpaste can reach between your teeth.
3. Guide floss between teeth using a back-and-forth motion.
4. Slide floss against the tooth surface and underneath the gum line. Pay attention to teeth next to toothless gaps.
5. Practice good flossing techniques at least once a day.
AEG's Dental Assistant program is offered as an associate's degree and diploma. Students learn chair-side skills, instrument and tray set-up and sterilization, dental radiography, dental procedural coding and dental office skills, as well as proper brushing and flossing techniques and more.
For more information about Anthem Education Group's Dental Assistant program, please call 866-502-2627. Visit Anthem.edu, facebook.com/AnthemEducationGroup and follow us on Twitter at twitter.com/AnthemEducation.
About Anthem Education Group
Founded in 1965, the Anthem Education Group (AEG) family of schools and colleges provides career-focused training and education programs for the allied healthcare, nursing, veterinary, technology, criminal justice, technical trades, business, paralegal, cosmetology and massage therapy industries. Comprised of 36 institutions in 14 states, as well as an online college, AEG campuses are located in major metropolitan areas. The AEG family of schools and colleges includes Anthem College, Anthem College Online, Anthem Career College, Anthem Institute, Florida Career College, FCC-Anthem College, Morrison University, Anthem College-Bryman School and The Bryman School of Arizona. Specific campuses offer diplomas, as well as degree programs in Associate of Science, Associate of Applied Science, Bachelor of Science or Master of Business Administration (MBA). Campus accreditations include Accrediting Council for Independent Colleges and Schools (ACICS), Accrediting Bureau of Health Education Schools (ABHES) and Accrediting Commission of Career Schools and Colleges (ACCSC). AEG is headquartered at 1000 Corporate Drive, Fort Lauderdale, Fla. For more information, call 888-852-7272 or visit http://www.Anthem.edu.