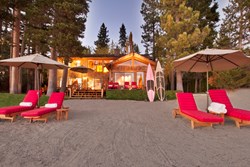 The Beach Shack is the perfect addition to Martis Camp's already robust stable of amenities, and allows us to provide a fully comprehensive Tahoe experience – ski, golf and lake.
Truckee, CA (PRWEB) February 05, 2014
Martis Camp, North Lake Tahoe's premier luxury real estate community, announces its first lakeside amenity for Club members. Scheduled to open July 2014, the Martis Camp Beach Shack at Lake Tahoe will offer club members private access to America's best known lake along with family-friendly activities and programming for an effortless beach experience.
Located in Tahoe Vista just 12 miles from Martis Camp, the Beach Shack will be thoughtfully designed to deliver easy, all-in-one access to the summer pleasures of sand and sun, with a large grass lawn and beach area on the Lake. Convenient features such as valet parking and towel service will couple with everything needed for lakeside enjoyment – including kayaks, paddle boards, sand toys, chaise lounges and casual fare.
With its opening, Martis Camp will offer one of the most comprehensive four-season amenity packages in the country with direct, private ski lift access to Northstar California, an award-wining Tom Fazio golf course and now a home base on Lake Tahoe, heralded as the "Best Lake in America" by USA Today readers.
"We recognized the need to complement the summer experience at Martis Camp with a spectacular setting on Lake Tahoe for our Club members," said General Manager Mark Johnson. "The Martis Camp Beach Shack is the perfect addition to the Camp's already robust stable of amenities, and allows us to provide a fully comprehensive Tahoe experience – ski, golf and lake. We are excited to offer a new place for our families to gather together this summer."
The Beach Shack reflects Martis Camp Club's commitment to invest in the lifestyle experience of its owners. In addition to developer DMB Highlands Group's significant investment in the Lake Tahoe amenity, there are plans to complete and open The Springs Summer Pavilion and tree house this summer near Martis Camp's newest offering of homesites.
Martis Camp's amenities currently entertain a thriving community of more than 500 families. Since launching sales in 2006, 512 properties have been sold, with only 159 homesites left in inventory. In 2013 alone, a total of 116 properties sold for $162 million in volume, continuing to place the community at the forefront of second-home developments in the U.S. More than 152 homes are completed, with an additional 120 homes under construction and 80 in the active design process.
For more information on Martis Camp please visit http://www.MartisCamp.com or call 1-800-721-9005.
ABOUT MARTIS CAMP:
Martis Camp is a private gated community located between Truckee and North Lake Tahoe in the Martis Valley. Situated on 2,177 acres with sweeping topography, the land itself embraces the true essence of High Sierra living. A year round community, Martis Camp Club offers Club members private ski access via the Lookout Lodge and Martis Camp Express Lift to Northstar California™ in winter and a Tom Fazio 18 hole golf course in the summer. Martis Camp Club members enjoy a vast array of amenities including the Family Barn complex with swimming, a bowling alley, art loft, movie theater, indoor basketball court, soda fountain and outdoor performance amphitheater; an 18-hole putting park; Sporting fields and pavilions; Camp Lodge with dining venues, club spa and fitness center and vitality pools; Folk School; Lost Library; 26 miles of private trails for hiking, snowshoeing and cross-country skiing and a private mountain clubhouse at the base of Lookout Mountain. http://www.martiscamp.com