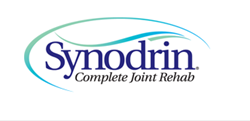 (PRWEB) February 05, 2014
Doctors and patients are searching for better ways to treat chronic pain. In a recent article in USA Today, it was stated that over 100 million Americans are suffering from the condition, characterized by pain that lasts more than six months at a time http://www.usatoday.com/story/news/nation/2014/02/02/chronic-pain-treatment/4737647/. It can be debilitating, causing people to be unable to work, participate in activities they once enjoyed, and even leading to other serious conditions like depression and heart disease.
While treatment methods like surgery and medication have been the norm for many patients, doctors are now finding that non-invasive, non-drug treatments are proving to be more effective treatment options for chronic pain sufferers.
Synodrin is one of the effective treatments now being recommended. The revolutionary all-natural products, including a joint health supplement and fast-acting lotion, have been scientifically proven to provide fast joint pain and arthritis relief. Patients experience less pain, better range of motion, and overall improved condition of the joints.
This improvement in the joints allows for more of doctor's number one recommended treatment for chronic pain: exercise. Many chronic pain sufferers are hesitant to exercise for fear of aggravating their condition, but studies are showing this could be the very thing they need. Synodrin gives them the joint pain relief they need to find the motivation for more exercise and better health.
Chronic pain conditions cost the healthcare industry roughly $635 billion a year, or roughly $6,350 per sufferer. A year's supply of Synodrin costs less than $450, or roughly a 93% discount on annual health care costs as compared to those who turn to risky surgery and dangerous medication.
Chronic pain sufferers who are interested in trying Synodrin for themselves can place an order on their website at http://www.synodrinjointpainrelief.com, or at participating retailers. The company offers a 60-day money back guarantee on their products.
About Synodrin
Synodrin Complete Joint Rehab is a family owned company believing that doing right by its customers means providing them with the best and highest quality products available. They believe that nobody deserves anything less than the best. They strive to achieve that through manufacturing the highest quality products possible in their cGMP and FDA registered facilities in the USA. Their all-natural capsules and lotions are scientifically proven when paired together to provide consumers with faster joint pain relief and best overall value for their dollar.