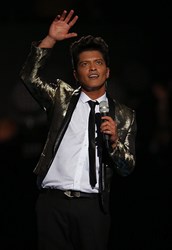 Denver, CO (PRWEB) February 05, 2014
Over 115.3 million viewers caught Bruno Mars and the Red Hot Chili Peppers during last Sunday's Super Bowl 48 half-time show, the largest audience in the history of the big game, as per Nielsen data released Monday.
That's one million more fans than the previous record of 114 million who watched Madonna two years ago, and the 110.8 million who tuned in to see Beyoncé boogie last year. Sadly however, the rest of last Sunday's Super Bowl was, well, far from super.
The highly-anticipated match-up between the NFL's top offense Denver Broncos and best defense Seattle Seahawks turned ugly right from the start. From there, it quickly disintegrated into a runaway rout, at times almost too boring or too painful to watch.
But while the lopsided contest may have been a sorry sight for Broncos fans and millions of others hoping for an exciting down-to-the wire display of gridiron greatness, it was a huge win for the Seahawks and their fans, as well as singer Bruno Mars.
Yes, Seattle took home the Lombardi with a stunning 43-8 win. And yes, Bruno Mars, whose magnificent multi-generational mix resonated with a record-setting audience, made off with a dramatic boost in ticket sales for his upcoming tour. It's set to hit the field in Azcapotzalco in Mexico next Sunday February 9, 2014.
"Mars showed why he was named Billboard's top artist of 2013, and why his latest album Unorthodox Jukebox won the best pop vocal album Grammy Award last week. Thanks to his ability to connect with fans of all ages, his R&B-pop sound has become a staple on radios around the world. And as millions more found out last Sunday, his live shows are not to be missed," said Marta Ault at BuyAnySeat.com.
"That's why we're proud to offer fans the most complete and continuously updated selection of concert tickets available online, with a worry-free guarantee to protect their purchase," added Ault.
"To access our listing of Bruno Mars tickets, fans can go to BuyAnySeat.com and search for Bruno Mars – then select their tickets."
During Bruno Mars' 12-minute display — along with a compelling cameo by the Red Hot Chili Peppers — the 28-year-old singer oozed a familiar friendliness and ease so winning, it seemed to take the edge off the dismal 22-0 halftime score.
In addition, Mars's performance was a celebration of the last 40 years in music - groovy '60s Motown to fun '70s disco funk and upbeat '80s pop. Plus, he threw in a dash of super-modern hip-hop-flash for good measure, earning high scores from viewers and reviewers alike.
The pop crooner burst onto the mainstream music scene in 2010 on top of his first album "Doo-Wops & Hooligans," which featured the No. 1 hits "Grenade" and the Grammy-winning "Just the Way You Are."
Worldwide, Mars became the best-selling digital artist in 2011. He had three singles in the top ten, including first place with "Just the Way You Are", which sold 12.5 million copies. Mars also won Best International Male Solo Artist at the 2012 BRIT Awards. Overall, Bruno Mars has sold six million albums and 40 million singles worldwide. (Source: Billboard, 10/22/2012)
Past Super Bowl half-time shows have featured Beyoncé, Madonna, the Black Eyed Peas, the Who, Bruce Springsteen, Tom Petty and the Heartbreakers, Prince, The Rolling Stones, Paul McCartney, Janet Jackson, Justin Timberlake, Sting, Shania Twain, U2, N'Sync, Brittany Spears, Aerosmith, Christina Aguilera, Enrique Iglesias, Phil Collins, Toni Braxton, Stevie Wonder, Gloria Estefan, Smokey Robinson, Queen Latifah, James Brown and the Blues Brothers.
To shop for Bruno Mars tickets, visit BuyAnySeat.com.
About BuyAnySeat.com: An online ticket marketplace, BuyAnySeat.com connects sports, theater and other live entertainment fans to an extensive worldwide network of ticket sellers. The site's simplified listings and navigational tools enable fans to easily locate, compare and purchase inexpensive, discounted or lower-priced tickets to virtually all advertised sports and entertainment events around the globe.
The online marketplace, which is PCI-compliant and Norton Secured, also provides customers with a complete Worry-Free Guarantee on all ticket purchases. Based in Denver, Colorado, BuyAnySeat.com is a subsidiary of Denver Media Holdings. For more information, please visit http://buyanyseat.com.