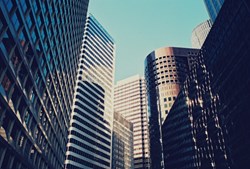 Los Angeles, California (PRWEB) February 06, 2014
Corporate relocation, is a phrase often associated with dread, stress, and confusing high-tension problems. However, it doesn't have to be. The Commercial Movers – known across the United States for their high standards in professional office moving services – is testing an expansion of their business model to include not only standard physical moving service, but now an umbrella of features designed to make corporate relocation a more streamlined and less hectic prospect. The new services are designed to help companies not only with the handling of their equipment, but of their employees and finances.
According to company spokesperson Tom Pinkus, the change comes from, "many years of experience in the interstate and international commercial moving business has taught us that much of the difficulty that comes from corporate relocation, comes not just from physically moving all of a company's assets from one place to another, but from jumping through all the bureaucratic and organizational hoops that come with such sizable projects. And after years of seeing companies struggle with the facets of a move that we have no control over, we decided that we could take control over those problem areas our self and help the customer in a broader way."
He later went on to add, "Part of the difficulty of corporate relocation, is a lack of experience in the field. Moving across state or federal lines is not a project that individual businesses have much experience with. So, even companies full of smart capable people can end up thoroughly mismanaging the move. We have a massive amount of experience in the many facets of commercial moving, and after seeing the pitfalls of many businesses attempting it, we feel can lend an extremely helpful hand to these companies."
In pursuit of greater customer satisfaction, The Commercial Movers has hired additional personnel. The personnel will compliment The Commercial Movers experienced commercial moving services and should lead to a more well-rounded once-stop-shop company. Additionally, The Commercial Movers is partnering with numerous regional firms to handle region specific details of state to state moves. These partnerships, however, will not complicate things for the customer. Rather than dealing with multiple firms and government departments all by themselves, the customer will be able to everything through The Commercial Movers. The result being a much more straightforward process that requires far less work.
The company hopes the expansion will foster closer ties between themselves and their customers, as well as their customers and their own employees. By helping with the human side of corporate relocation, instead of only the equipment, The Commercial Movers will be ready to deal with any baggage a business might have, physical or otherwise. Future customers can expect to get the quality service they deserve from a premium moving company, no matter which part of the move they need it from.
For more information and a free quote visit The Commercial Movers online.