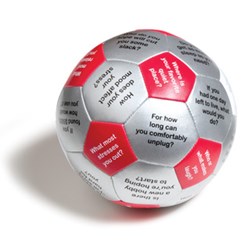 Get people talking about their stress points so problems can be addressed.
Boston, MA (PRWEB) February 06, 2014
Office Oxygen, leaders in workplace innovation, announced today the release of its Stress Relief Thumball. The Thumball™, first introduced in 2007 by Answers In Motion, is a stuffed vinyl ball with 32 pre-printed conversation prompts. The balls have taken the learning and corporate training worlds by storm as they provide a playful yet substantive way for colleagues to deepen their understanding of each other and address critical business issues.
While there are dozens of Thumball varieties on the market, the Stress Management Thumball by Office Oxygen is the first to focus on the causes and remedies for workplace stress.
Susan Landay, President of Office Oxygen, explains, "The goal of this new Thumball is to get colleagues talking about their stress points, so that work flows can be altered, problems addressed, and colleagues can be sensitive to each other's needs." By using the Thumball, facilitators can create a non-threatening environment in which groups can discuss what affects their stress level and ways to better manage their own approach to stress.
Prompts on the Stress Management Thumball include:
1. Is trying something new more energizing or stressful?
2. What forms of exercise are most enjoyable?
3. Who do you hope will cut you some slack?
4. How does your mood affect your stress?
5. Is there a new hobby you're hoping to start?
6. Do you know when to say "NO"?
7. When you're busy, what's first to get cut from your routine?
8. If you took a "1-minute mental vacation," where would you go?
For a full list of prompts included on on the Stress Management, please visit the Office Oxygen website.
The Natick, Massachusetss-based Office Oxygen also offers several "Get to Know You" Thumballs, a Communication Thumball, Sales Thumball, and Customer Service Thumball.