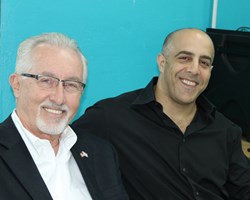 We take these training sessions for our guards very seriously, Wayne Black is one of the best out there for IED Recognition training.
North Miami Beach, FL (PRWEB) February 04, 2014
Providing South Florida guard services, Bryant Security prides themselves in protecting communities, schools and places of worship for nearly 30 years. The Miami security company, is one of the only private security companies to offer one-on-one training for their Guards Division on IED Recognition. This training with the legendary Wayne Black and Associates will enhance the ability of Bryant security guards to locate, handle, and remove bombs and other Improvised Explosive Devices.
Until last year, this training was only offered to military and law enforcement personnel. Due to many synagogues, schools and churches Bryant Security protects, they are one of the only private security companies authorized to receive in-house IED Recognition training. "As far as I know, no other private security firm is given this training opportunity." says Shay Ben-David, President of Bryant Security Corporation. "We take these training sessions for our guards very seriously, Wayne Black is one of the best out there for IED Recognition training."
Rene Zerquera, Operations Manager at Bryant Security says, "The first section of the Wayne Black and Associates training included an intro to IED, how they are built, the damage they do, and where and how to look for Improvised Explosive Devices." Rene explains the later part of the training included a hands on, in the field training exercise. IED's were strategically hid around a select school, and in a few parked vehicles. The Bryant Security Guard Division was able to detect, locate, and safely remove the IED's, based off their training. This is the second year for Bryant guards to receive this training, and have since implemented a Bryant Security protocol for IED's, based off their training seminars with Wayne Black.
Wayne Black, founder of Wayne Black and Associates says, "For many years, it has been my pleasure to work with the professionals at Bryant Security. They have always provided my clients with fantastic service and security. They are the only private security company that train their officers to recognize improvised explosive devises, using accepted law enforcement standards." Clients of Bryant Security can feel safer in schools and religious faculties knowing Bryant security guards have full training and accreditation in bomb and Improvised Explosive Device (IED) Recognition. For more information on Bryant Security, or to learn more about safety and security issues, please log on to http://www.BryantSecurity.com or call, 305-405-4001.
About Bryant Security
Bryant Security is one of South Florida's most established and well diversified security companies. Providing South Florida guard services armed and unarmed in the Miami-Dade and Broward Counties, this family-owned and operated business has proudly served and protected the community, property and people since 1985.
Offering innovation, quality, professionalism, resourcefulness, experience and flexibility, this makes Bryant Security the security services industry leader of South Florida. Mandating skilled manpower, teamwork, expertise, specialty knowledge and trained security officers to demonstrate precise and flawless conduct at all times. From executive level protection to CCTV Camera and Entry Systems, they demand the very best! Each protection task private or public that their protection officers undertake calls upon their extensive training which focuses on ensuring the security and safety of your company, property and staff.
When you select Bryant Security you are ensuring that your facility will enjoy the highest possible degree of Miami professional security. Their management team consists of hands-on leaders who will work directly with you in planning and implementing your campus' security and contingency planning needs. BryantSecurity.com or 305-405-4001.