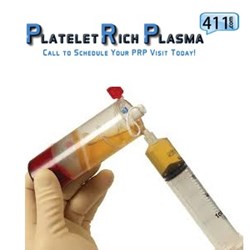 (PRWEB) February 05, 2014
Accommodating chronic and debilitating pain patients across the nation, PRP411.com has become known as America's first prolotherapy online search-and-booking platform. Constructed specifically to attend to the massive influx of patients seeking reputable regenerative medicine practices, the company has solidified its name as a bona fide Internet portal for many of the country's prolotherapy patients who are seeking a non-invasive healing treatment such as platelet-rich plasma injections. Already featuring a comprehensive list of high-standing PRP doctors situated throughout the United States, the doctor network at PRP411.com is comprised of practitioners who are looking to help Colorado pain patients organize a personalized pain management plan that is custom-tailored to personal necessity. The company has now turned its eyes to the Centennial State in hopes of gathering up as many Colorado prolotherapy doctors as humanly possible.
An alternative remedy choice of some of Hollywood's most notorious celebrities and athletes, platelet-rich plasma therapy has become one of the most effective choices of healing that Colorado patients utilize to recover from an injury. In fact, this regenerative medicine treatment greatly differentiates from many other forms of treatment. Unlike traditional, surgical pain treatments, PRP features a non-invasive procedure that will accelerate the healing response within the body of a patient. The body's mending process is essential in helping maintain order to help heal or reduce symptoms of various types of debilitating injuries. Colorado PRP patients will be happy to know that PRP411.com is working around the clock to find reputable prolotherapy doctors who support and practice this form of treatment in Colorado.
Without feeling obligated to spend any time in a hospital-based setting, platelet-rich plasma therapy patients are able recover from a procedure in little to no time. Being situated for an extended period of time in an uncomfortable setting is not something that patients look forward to, but luckily this is a form of blood injections that allow a patient to go back home and relax. Additionally, an administration of a platelet-rich plasma injection is able to take place right in any Colorado prolotherapy doctor's office, an out-patient process that features the blood sample of a patient being placed into a centrifuge that separates the blood into distinct components.
Platelet-rich plasma therapy is an exceptional choice for any Colorado pain patients who sick and tired of having to deal with the disruption of daily activities due to complications. With the efficiency of a surgical procedure, yet performed in half of the time, a PRP injection greatly enhances the body's ability to ambulate immediately after being administered platelet-rich plasma. Patients located in the state of Colorado are asked to inquire about this unique form of regenerative medicine, as it provides many benefits that could improve the lives of those who desire wellness. Patients who are typically seeking this form of treatment have been diagnosed with conditions involving the knees, shoulders, hips and spine, rotator cuff tears, chronic plantar fasciitis, anterior cruciate ligament injuries.
Paving the way for regenerative healthcare in the Centennial State, platelet-rich plasma injections are the go-to solution if other traditional remedies have not provided beneficial results. Evidently enough, there is a massive influx of patients in Colorado who are seeking platelet-rich plasma treatment. PRP411 is in great need of more doctors to satisfy this great state's influx of patients willing to utilize PRP.