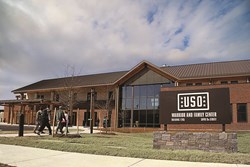 The center is part of why Fort Belvoir is such a great place for our Soldiers and their families. Every day the USO provides services that lift our spirits and help keep us together and strong. - Col. Greg Gadson
Arlington, VA (PRWEB) February 05, 2014
One year ago today, the USO opened doors to its first ever Warrior and Family Center. Since its grand opening, the USO Warrior and Center at Fort Belvoir, Virginia has served more than 115,000 troops and military families through nearly 1,000 programs and events, proving to be a valuable resource to one of the largest Army bases in the United States. The USO will celebrate the occasion with a birthday party at the center tonight.
"The Warrior and Family Center at Fort Belvoir allows us to provide programs and services that truly make a difference in the lives of our troops and their families, in particular our wounded, ill and injured members and their caregivers," said Elaine Rogers, president and CEO of USO Metropolitan Washington-Baltimore. "It's a spectacular home-away-from home that is staffed by more than 300 dedicated volunteers who generously give their time and hearts to our troops and their loved ones."
At more than 20,000 square feet the center is the largest in USO history. Strategically positioned on Fort Belvoir, adjacent to the Warrior Transition Unit Complex and Fort Belvoir Community Hospital, the center was designed to promote a community of care and support for troops and families and serve the most important non-clinical needs of wounded warriors as they prepare to transition to civilian life. With more than 20 unique spaces including a business center, dining room, art room, healing gardens as well and a game and music room, the center gives troops and their families and caregivers the opportunity to learn, share and create memorable experiences. Our nation's heroes can enjoy a home cooked meal, their children play, and families begin to work toward their future and getting back some of the many moments they missed during deployments or recovery.
"We're very proud to count the USO Warrior and Family Center among our partners here on post," said Col. Greg Gadson, Fort Belvoir Commander. "The center is part of why Fort Belvoir is such a great place for our Soldiers and their families. Every day the USO provides services that lift our spirits and help keep us together and strong."
In partnership with best-in-class organizations, the Warrior and Family Center provides programs and services aimed specifically toward wounded, ill and injured troops, such as the Combat Paper and Warrior Writers Workshop which provides wounded warriors a cathartic experience to express themselves through art. Troops are able to deconstruct their uniforms to create handmade paper where they can then incorporate imagery and writing.
Through the center's Outdoor Heroes programs the troops recovering from injuries and their caregivers have the opportunity to spend time outdoors, away from the hospital setting, learning about various outdoor recreation activities such as photography, deep sea fishing, fly-fishing, golfing, kayaking, archery, camping and hunting.
Other popular programs at the center have been those focused on healthy eating and living such as cooking, yoga and Zumba classes.
"It is absolutely amazing to hear about the many thousands of lives this very special center has impacted since our grand opening just a year ago and I know this is just the beginning," said USO Executive Vice President and Chief of Staff John I. Pray Jr. "We are proud to be able to say a heartfelt 'thank you' on behalf of all Americans and deeply grateful to all those who have helped us make our spirit-lifting mission happen for those that do so much for all of us, our troops and their families."
The challenges of military life do not end when deployment does. From training and constant preparation to reintegration and rehabilitation, the sacrifice of a serviceman or woman endures. For this reason, the USO is committed to helping our troops and their families throughout their service – making every moment count – whether they are deployed or returning home.
The Warrior and Family Center at Fort Belvoir is operated and managed by USO Metropolitan Washington-Baltimore. The anniversary of the center's opening comes on the heels of the USO celebrating 73 years of lifting the spirits of America's troops and families and just weeks before the organization opens its second Warrior and Family Center located on the campus of Naval Support Activity Bethesda, Maryland home of Walter Reed National Military Medical. The 16,000 square foot USO Warrior and Family Center at Bethesda will be ready to serve troops and families, particularly those battling visible wounds of war, on April 1.
For more information about the USO and how to get involved, visit uso.org. For a complete list of local programs, events and volunteer opportunities, visit usometrodc.org.
###
About the USO
The USO lifts the spirits of America's troops and their families millions of times each year at hundreds of places worldwide. We provide a touch of home through centers at airports and military bases in the U.S. and abroad, top quality entertainment and innovative programs and services. We also provide critical support to those who need us most, including forward-deployed troops, military families, wounded warriors and families of the fallen. The USO is a private, non-profit organization, not a government agency. Our programs and services are made possible by the American people, support of our corporate partners and the dedication of our volunteers and staff.