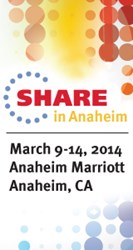 Our clients can now view real-time mainframe event data in their SIEM systems.
Naples, FL (PRWEB) February 05, 2014
CorreLog, the leader in multi-platform solutions for IT security event log correlation, today announced that it has secured a sponsorship for the SHARE in Anaheim Technology Exchange Expo, March 9-14, 2014, at the Anaheim Marriott Conference Center. CorreLog will exhibit from booth #216 in the Expo Hall and will feature its new release of the CorreLog Agent for IBM z/OS version 5.4.0. SHARE in Anaheim attendees who stop by the CorreLog booth will receive a complimentary IT security and compliance eBook. The eBook, "Top 5 IBM z/OS Vulnerabilities Cyber Criminals Use for Network Breaches," provides guidelines for identifying cyber-threat from z/OS log data in real-time as the data is generated, and outlines steps to comply with industry watchdog regulations such as PCI DSS, HIPAA and Sarbanes-Oxley.
The CorreLog Agent for IBM z/OS converts mainframe SMF data to distributed Syslog format for real-time inclusion into security information and event management (SIEM) systems. IT security analysts can leverage the CorreLog Agent for IBM z/OS to view mainframe event data alongside distributed events in their SIEM console as the data is generated. The CorreLog agent is a key component in any industry segment where malicious operators target the voluminous credit card data stored in data centers leveraging IBM z/OS technology.
"No enterprise can be completely secure from cyber-threat without knowing at any point in time the status of their mainframe data," said George Faucher, CorreLog CEO and president. "Until now, InfoSec software vendors have mostly focused on distributed systems, yet the mainframe has remained one the most strategic IT investments. Our clients can now view real-time mainframe event data in their SIEM systems giving them greater end-to-end enterprise visibility."
The CorreLog Agent for IBM z/OS allows users to select from a myriad of events including RACF violations, TSO logons, production job ABENDs, TCP/IP connections, FTP activity, and DB2 accesses. Within these parameters, security systems admins may filter events further by sub-categories and receive only the data relevant to security threats. This filtering capability streamlines data flow to SIEM system consoles without compromising network bandwidth.
CorreLog will also feature dbDefender™ for DB2 at SHARE in Anaheim. dbDefender™ provides real-time z/OS data to SIEM dashboards for DB2 database activity monitoring (DAM). dbDefender's DAM capabilities include:

Privileged user monitoring
Auditing of invalid logical access attempts
Auditing the creation and deletion of system-level objects
Additional auditing of DB2 Utilities, DDL statements, DB2 console commands, DB2 object access, and other user activity linked to DB2.
Both the CorreLog Agent for IBM z/OS and dbDefender™ operate within the constraints of increasing compliance regulations such as PCI DSS, FISMA, HIPAA, NERC and Sarbanes-Oxley. For more information on CorreLog solutions for IBM mainframes, please visit the CorreLog website.
More information on SHARE in Anaheim can be found at http://www.SHARE.org/Anaheim.
About CorreLog:
CorreLog, Inc. is the leading independent software vendor (ISV) for IT security log management and event correlation. CorreLog's flagship product, the CorreLog Enterprise Server, combines log management, Syslog, Syslog-NG, SNMP, auto-learning functions, neural network modeling, proprietary semantic correlation, automated help-desk ticketing and reporting functions into a unique multi-platform security solution. CorreLog Enterprise Server operates across Windows, UNIX, Linux and mainframe platforms, shipping with an out-of-box PCI DSS compliant CorreLog Agent for IBM z/OS, the world's most popular mainframe operating system.
CorreLog delivers an essential viewpoint via dashboard console, providing verifiable and actionable information on the activity of users, devices, and applications to proactively meet organizational SLAs and regulatory requirements. Additionally, CorreLog automatically identifies and responds to any suspicious behavior, network attacks, or policy violations by indexing and correlating user activity and event logs, then archives the data in an enterprise server system location. This allows customer organizations to quickly identify then proactively respond to compliance violations, policy breaches, cyber-attacks and insider threats. For auditing and forensics, CorreLog facilitates regulatory requirements set forth by PCI DSS, HIPAA, SOX, FISMA, NERC, NCUA, and many other standards. CorreLog markets its solutions through both direct and indirect partner channels.