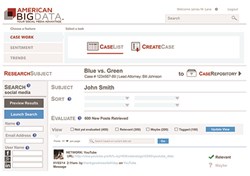 recognize the important role Social Media and Big Data technology is increasingly playing in legal matters
Atlanta, GA (PRWEB) February 05, 2014
American Big Data Inc., the leader in Social Media and Big Data solutions for the legal industry, has received the 2013 Technology Innovator of the Year Award. The Award, presented in January at the National Trial Lawyers Summit in Miami, recognizes American Big Data's significant advances in legal technology related to Social Media, Research, Marketing, and Big Data Analytics.
John Linss, CEO for American Big Data, expressed his gratitude in receiving the honor, "We are greatly appreciative of the tremendous honor it is to be selected as the first recipient of this Award. It is a credit to the National Trial Lawyers Association that they recognize the important role Social Media and Big Data technology is increasingly playing in legal matters and the courtroom."
American Big Data currently has the largest data store of social media posts related to the legal profession and is the only firm transforming massive amounts of unstructured social data into relevant views and useful information specifically for lawyers. Their LegalSuite supports the process of finding, evaluating, and organizing substantial amounts of unstructured social data into relevant and useful case information. It delivers insight into public sentiment and trends on specific products, corporations, and defendants and provides unparalleled trial preparation support, risk mitigation and competitive advantage.
"LegalSuite is amazingly comprehensive in its ability to manage large sets of structured and unstructured data," says Larry Domenico, Managing Partner of Mozley, Finlayson & Loggins LLP. "We are seeing areas where the tools and technologies that American Big Data provides can support our varied litigation practices," he added.
Increasingly, social media and the information social networks collect are being recognized by litigators as both a marketing tool and as a source for evidence, juror bias, and witness evaluation. The proprietary software also includes data-mining from Facebook, Twitter, Google Plus, and YouTube including full sentiment analysis and top users for the four networks.
About American Big Data Inc. (AmBigData)
With its powerful unstructured data mining tools, AmBigData helps law firms find, choose and win cases by unlocking the power of social media information. AmBigData captures social conversations, transforming unstructured information into immediate insight for litigators. Litigators use American Big Data LegalSuite to find information about jurors, witnesses and parties to better prepare their cases for trial. Information can be used in opening and closing statements, deposition preparation, witness examination, and voir dire, as well as to develop practice expansion strategies. For more information, visit http://www.AmBigData.com.
For more information, please visit http://www.ambigdata.com
###