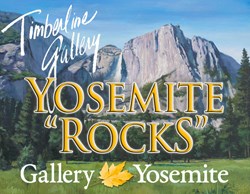 A free children's event to inspire children to connect with nature thru art.
Oakhurst, California (PRWEB) February 05, 2014
On Saturday, February 8th, the Yosemite "Rocks" Artistic Learning Series continues at Timberline Gallery and Gallery Yosemite in Oakhurst. This is one of the many local events scheduled to honor the Yosemite Grant 150th Anniversary.
Gallery Yosemite and Timberline Gallery will host this series on the 2nd Saturday of each month (special dates in April) from 2 p.m. to 4 p.m. thru September. This is a free event at the galleries in Oakhurst.
The February offering is a special children's event, enticing them to find the joy in drawing, beading and weaving. They will have an "aBEARham Lincoln" coloring and drawing contest, classes on drawing, beading and weaving, plus "How to Draw What You See in Nature."
Other scheduled events in the Yosemite "Rocks" series are:
March 8th – How to See a Story by Zyg Zee
April 5 to May 4 – Sierra Art Trails presents Valley View: Yosemite Trails, Currents and Visions
May 10th – High Definition Range Photography by Andrew Erickson
June 14th – Panorama Photography by Mark Heliger
July 12th – Summer Children's Event with painting, art stations, stenciling, clay bears and more.
August 9th – Art Treasures of Yosemite Museum presentation by Richard Pettier
September 13th – Yosemite Museum, Yosemite history presentation
For more event information you can go to the Yosemite Sierra Visitors Bureau website at http://www.yosemitethisyear.com and for more information on the Yosemite Grant 150th Anniversary go to http://www.nps.gov/yose/anniversary.