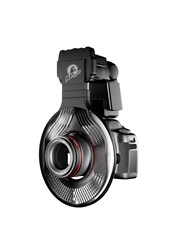 The Ray Flash 2, more adjustable and more affordable, now available in the U.S.
Watsonville, California (PRWEB) February 05, 2014
ExpoImaging, Inc., distributor of the original Ray Flash Ring Flash Adapter to the United States market, today announced availability of the Ray Flash 2: Universal Ring Flash Adapter.
"We are pleased to be able to introduce the new Ray Flash 2 to U.S. photographers," said Erik Sowder, ExpoImaging CEO. "When the original Ray Flash was created, location photographers were astonished to find that they could use it to achieve ring flash-style lighting using their speedlights. Now, the Ray Flash 2 accommodates a much wider variety of DSLRs and speedlights with its adjustable and more affordable design."
The patented Ray Flash 2 creates the characteristic ring flash look, a shadow-wrapped, flat lighting effect valued by photographers for fashion, portrait, and macro photography. To create this effect, the Ray Flash's acrylic light guides efficiently direct light from a camera mounted speedlight into a circle around the camera's lens.
The new Ray Flash 2 introduces a universal speedlight mount, adjustable height and a lower profile. A new, universal, adjustable mount with a spring-loaded clamp allows the Ray Flash 2 to quickly and securely attach to different sizes of speedlights. The center column of the Ray Flash 2 slides up and down to accommodate variations in camera and speedlight heights. The Ray Flash 2 is also available in two different versions, long and short, to fit the tallest and shortest DSLR bodies available. Ray Flash 2's lower profile compared to the original Ray Flash makes it even more portable for location photographers.
Pricing and Availability
The Ray Flash 2: Universal Ring Flash Adapter is now available in the U.S. through photo specialty resellers nationwide, or online at http://www.expoimaging.com. The Ray Flash 2 retails for $139.95.
About Ray Flash 2
Created by Czech photographer and inventor Dalibor Zyka, patented Ray Flash Ring Flash Adapters have made classic ring flash lighting more accessible to budget conscious photographers by allowing them to modify their speedlights to create the highly desirable lighting effect.
About ExpoImaging, Inc.
ExpoImaging, Inc. markets, designs, manufactures and distributes innovative camera accessories to the photographic market. ExpoImaging, the pioneer in white balance filters, manufactures ExpoDisc 2.0 White Balance Filters and Rogue Photographic Design light modifiers. ExpoImaging is also the exclusive U.S. distributor of Ray Flash 2: Universal Ring Flash Adapter. These unique products are available at select photography dealers worldwide or online at http://www.expoimaging.com.