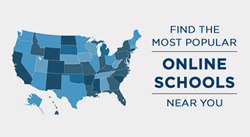 Although location does not seem like it would be a factor in deciding which online college to attend, many students prefer a local college.
Kirkland, WA (PRWEB) February 05, 2014
SR Education Group, a provider of authoritative online education resources based in Kirkland, Wash., announced a study that shows the most popular online schools in each state. The new study resides on SR Education Group's flagship site, http://www.guidetoonlineschools.com. Every institution listed on the study enrolled at least one student in online courseware in 2012. Some schools enroll hundreds of thousands of online students, which shows the increasing popularity of online education. Although location does not seem like it would be a factor in deciding which online college to attend, many students prefer a local college. They are already aware of the reputation of schools in their area and many hope the reputation of a local degree will resonate with future employers.
According to another study done about online college students by Carol B. Aslanian and Dr. David L. Clinefelter, about 80% of online students live within 100 miles of a campus or service center of the institution they attend. In fact, the large majority live within 50 miles, meaning geographic proximity is a major advantage in attracting online students. Furthermore, among all the institutions that respondents considered during their college search, the farthest institution they considered was often located less than 50 miles from where they resided.
Students interested in earning a degree online care where the college is located. Online students want to live near the actual campus, even if they aren't attending classes on campus. The guide to the most popular online schools by state clearly shows which colleges offer online classes and which schools offer degrees that can be earned 100% online.
"We launched Guide to Online Schools in 2000," says Sung Rhee, CEO of SR Education Group. "Over the years, we haveve learned which factors are important to helping a student decide on a college. Our newest study about the most popular online schools by state is another way to for us to help students find the right schools to fit their education needs."
The study was based on the most recent data available from the National Center for Education Statistics (NCES). The environment of higher education is shifting from campus learning to hybrid courses to fully online learning. Guide to Online Schools hopes this new resource will make it easier for students to find the right online schooling option.
About SR Education Group
Headquartered in Kirkland, WA, SR Education Group was founded in 2004 by CEO Sung Rhee. The company's mission is to create authoritative online resources for students seeking an online education program that best suits their budget and career aspirations. SR Education Group is passionate about making quality education attainable for everyone and believes that objective information about education, careers, and educational financing should be free and easily accessible. For more information, please visit http://www.sreducationgroup.org.