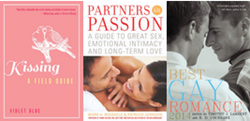 "Cleis Press—market leaders in producing well-written erotica for discerning readers."—Erotica Revealed
(PRWEB) February 05, 2014
Cleis Press, publisher of literary romance and how-to guides, published a special quiz to help literary lovers find the perfect gift for Valentine's Day.
Cleis has every kind of taste covered, from a steamy encounter to an intimate meeting of the minds with a partner, and covers the how-to's of an amazing first kiss and BDSM basics. Take the Valentine's Day quiz to see which book will satisfy those deepest desires, and choose the right book for a lover on this romantic holiday. Possible results range from Kissing: A Field Guide, The Delicious Torment, Partners in Passion, and more.
Cleis Press publishes provocative, intelligent books across genres. Whether literary fiction, human rights, mystery, romance, erotica, LGBTQ studies, sex guides, pulp fiction, or memoir, you know that if it's outside the ordinary, it's Cleis Press.