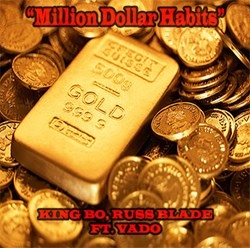 Something going on in the rap game right now where everyone goes on their lunch break when they do a record. The hook is strong and the verse won't be there or only one good verse on the song. But we bring the full meal to the table.
New York, NY (PRWEB) February 05, 2014
Coast 2 Coast Mixtapes announces the release of the "Million Dollar Habits" single by King Bo & Russ Blade. The song is currently available for download. The single features an appearance from Vado.
King Bo and Russ Blade are rappers from Queens, New York. With dreams of doing big things together since they were children, King Bo and Russ Blade have been trading rhymes for as long as they can remember. It all started when the duo and their friends would playfully battle rap each other creating some healthy competition. King Bo, who got his name by knocking people out like D Bo from the Friday movies, fell in love with rhyming after realizing his potential delivering a serious rebuttal to a "diss track" created by Russ Blade and close friend Freaky Neeky.
As King Bo started making waves in the local scene for his diversity and ability to authentically switch between different styles, Russ Blade was more focused on running the streets and building the network. Always inspired by the Hip Hop greats such as Biggie, Kool G Rap, and Jay Z, once the duo officially linked up they knew they had the formula to follow in the footsteps of those icons that came before them.
Getting major attention from record labels around the city, Bo and Russ found themselves being pursued by A&Rs from just about every label but most notably Bad Boy and Universal records. After a series of sit downs, Bo and Russ decided to grow their brand and music independently until they held the leverage to dictate the deals with the labels. Now running their own lane the duo has released a number of singles and mixtapes gaining buzz with radio play on Hot 97 and a great response online.
The most current single "Million Dollar Ideas" featuring Vado has been picked up by a number of popular mixtapes around the country and will kick off the release of their upcoming album "Supply On Demand Vol. 2". In anticipation for the release of their new project the duo has stepped up their game opening for E 40 and finding themselves featured in a number of magazines across the industry. Keep a look out for "Supply On Demand Vol. 2" and keep up with King Bo and Russ Blade on Russ Blade's Twitter at @RussBlade718.
About Coast 2 Coast Mixtapes
Coast 2 Coast Mixtapes are the most widely distributed mixtapes in the world, with over 100 million downloads/plays generated by over 200 volumes officially hosted by major artists. Coast 2 Coast has a solid reach in the new music industry with a digital magazine, DJ coalition, industry tips blog, yearly convention, and more. Coast 2 Coast Mixtapes represents a unique opportunity for artists of all urban genres, from major to indie. For more information, visit http://www.coast2coastmixtapes.com.