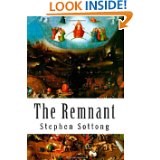 Hollywood, CA (PRWEB) February 04, 2014
Stephen Sottong of Eureka, California and retired academic engineering librarian has been very busy in his retirement. He is writing, and selling. He has announced his first novel "The Remnant," available as an e-book on Barnes & Noble and Kobo and in print at Amazon.
Stephen enjoys inducing thought in his readers. In this case "The Remnant" explores: what if everything you thought you knew about the End Times was not only wrong but was backwards. "The Remnant" takes the scenario of the Rapture and Tribulation as described in contemporary Christian literature and follows two families and their friends as they try to survive the horrors of that world and make their way to the perfect world beyond. Along the way, they learn hard lessons about the God who would allow this to happen.
His writing career started with the L. Ron Hubbard Writers of the Future contest, where Stephen was the 1st quarter, 3rd place winner last year. His winning story, "Planetary Scouts," was published in the bestselling Science Fiction anthology series – L. Ron Hubbard Presents Writers of the Future Volume XXIX.
Stephen is a "stay at home writer" and before his novel appeared, had a flash piece, "Friends," published in the anthology "100 Worlds" and a story "Dinner Date" published in the popular online publication "Every Day Fiction," since being published with the Writers of the Future contest.
The Contest was initiated by L. Ron Hubbard in 1983 shortly after returning to the field of science fiction with his bestseller Battlefield Earth, and to date the contest has launched the careers of 12 New York Times bestselling authors.
To purchase Stephen's book go to amazon.com and for more information on the contest, go to writersofthefuture.com.