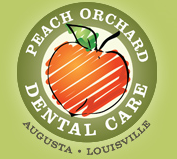 Augusta, GA (PRWEB) February 11, 2014
Cosmetic dentist and family dentists, David B. Avery, DMD, MAGD and Andrew H. Wright, DMD, of Peach Orchard Dental Care have announced the launch of a new, patient-focused website. Their practice is utilizing the website to educate the community on the importance of oral health. The Peach Orchard Dental Care website includes a page with important preventive care information as well as explanations of dental treatments so that new and existing patients can educate themselves before they come into the office for consultations.
Dr. Avery explains, "Our website serves a dual purpose. It allows us have a space online that's open 24/7 where our patients can go to learn more about what we discuss during their visit. It also gives patients and people searching online a space where they can learn more about the procedures and treatments they're curious about."
In addition the new website, Peach Orchard Dental Care has added another piece of technology to advance the way they care for their patients. Their Augusta office now offers custom-made crowns with the aid of a CEREC machine. The technology of CEREC allows Dr. Avery to precisely develop and place dental restorations so that all treatments blend seamlessly with patients' natural smiles. CEREC also cuts down on the traditionally lengthy wait times for restorations to be completed, as they can often be completed in a one day appointment. In addition to restorative dentistry, Peach Orchard Dental Care is able to offer:
Dental Implants
Orthodontics
Sedation Dentistry
"Staying on top of modern improvements to the fields of cosmetic and restorative dentistry allows our practice to bring better treatments to our patients. Our focus is on making sure that our patients are educated and given every opportunity for the most comfortable, beneficial dental procedures. Our website and the addition of the CEREC machine ensure that everyone we treat is well-informed and given the most beautiful, durable restorations available," Dr. Avery adds.
About Peach Orchard Dental Care
The entire staff at Peach Orchard Dental Care puts the care of their patients first. Everyone is treated to a warm, friendly atmosphere so they feel at ease while visiting. Drs. Avery and Wright have a combined total of 66 years of experience in their field and are able to address any dental concerns. Their backgrounds include membership in the Georgia Dental Association, American Dental Association (ADA), American Academy of Cosmetic Dentistry, Augusta Dental Society, International Dental Implant Association, and the Dental Organization for Conscious Sedation.
For more information on Peach Orchard Dental, please visit the website at peachorcharddental.com.