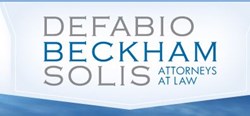 Miami, FL (PRWEB) February 05, 2014
A recent article in the Miami Herald featured one of Attorney Joel DeFabio's previous cases, in which he was able to get his client's federal money laundering charges dismissed after building a case to support his identity theft defense. The article was titled "Banking bad: One man's ID-theft nightmare", and was published online on Feb. 1, 2014.
The indictment against Attorney DeFabio's client, Carlos Gomez, was dismissed by U.S. Attorney Wifredo A. Ferrer in the United States District Court, Southern District of Florida, according to court documents for in United States of America v. Gomez (Case No. 10-20805-CR-COOKE).
According to court records, Mr. Gomez spent two weeks in a federal detention center and seven months under house arrest due to allegations that he was a co-conspirator in a money laundering scheme that involved multiple defendants—a scheme that is alleged to have been headed by a Wachovia bank employee. Attorney DeFabio—of DeFabio, Beckham & Solis, P.A.—worked with Mr. Gomez (a Columbia-born U.S. citizen) to gather various forms of evidence that supported his claim of innocence and that indicated that his identity had been stolen.
Court documents show that Attorney DeFabio's client was accused of setting up checking account withdrawals in 2006 in a way that was meant to prevent bank regulators from detecting the withdrawals. The larger money laundering operation targeted customers and resulted in a total of $1.1 million being stolen. As a result of his charges, Attorney DeFabio's client was at risk of spending up to 20 years in prison, if convicted. Mr. Gomez insisted that the checks connected to the crime contained someone else's signature and that he was innocent, court records show.
In the Miami Herald article, Attorney DeFabio noted that he and his client took numerous steps to try and convince the U.S. Attorney's Office and U.S. Immigration and Customs Enforcement that a mistake was made and they had charged the wrong person. The lawyer stated that he and Mr. Gomez never stopped fighting the charges, and that they let the government officials know that they intended to take the matter to trial, if necessary.
According to court records, around the same time that this case was unfolding, Wachovia was being accused of violating anti-money laundering laws and agreed to pay major penalties to the U.S. government.
Attorney DeFabio advised his client to take a polygraph test, which he passed, court documents show. Due to their investigations, Attorney DeFabio and Mr. Gomez found out that an address other than the defendant's was being used for a checking account that was under his name--the account that was used to launder the money. Mr. Gomez discovered that this account number did not match up with the one for the account that he originally opened.
Court documents state that Attorney DeFabio and his client presented this evidence to the prosecutors and then filed a motion to have the charges dropped. In November 2011, all of the man's charges were dismissed, official records show.
Attorney DeFabio, who is a partner at DeFabio, Beckham & Solis, has handled more than 300 federal cases throughout more than 30 years of practice. He has been accepted as a member of The National Trial Lawyers: Top 100, chosen as the recipient of the "Against All Odds" Award from the Florida Association of Criminal Defense Lawyers and nominated for the "Most Effective Lawyers" award by the Daily Business Review. He also has a 9.7 Superb rating by Avvo. For more information about Attorney DeFabio and his law firm, visit http://www.miamifederallawyer.com.